Manufacturing activity surged in June
While the economy continued to reopen, the ISM Manufacturing Index increased 9.5 points in June, exceeding expectations.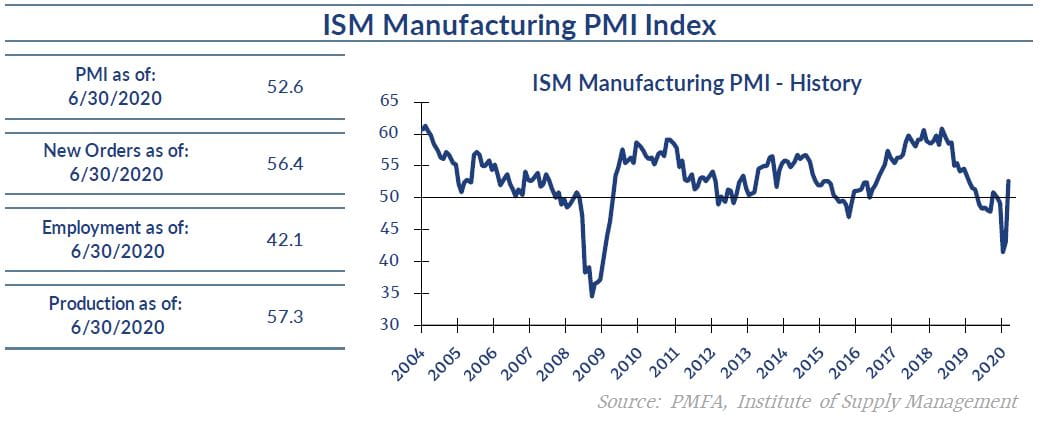 The ISM Manufacturing Index returned to expansion in June, increasing 9.5 points to 52.6, exceeding expectations. That increase marked the end of a relatively short but unusually severe three-month contraction in the sector.
The sharp increase in factory activity suggests that the economy is bouncing back more quickly than expected as the country gradually emerges from its lockdown. A sizable jump in new orders and production led the way, indicating that demand has returned, and manufacturers are rapidly ramping up in response.
As the economy came to a near standstill in recent months, manufacturing wasn't spared. Companies slashed payrolls in response and trimmed further in June, but less aggressively. With orders and production increasingly rapidly, a pickup in hiring should be anticipated in the near term as well.
While manufacturing remains a much smaller part of the U.S. economy than the service sector, it's still viewed as an indicator of the health of the broader economy. The rebound in manufacturing bodes well for a better-than-expected result for the service sector when the Institute's Non-Manufacturing Index for June is released early next week.
The underlying risk presented by increasing COVID-19 outbreaks throughout the country is still significant. The lifting of restrictions in certain regions has allowed people to return to some aspects of pre-pandemic life, providing a strong lift to spending activity. As some regions reimpose restrictions in response to the continued public health risk, spending will undoubtedly be curtailed and progress on the economic front impaired.
Broadly, a better-than-expected pickup in the manufacturing sector is another positive sign that the economy is recovering more rapidly than economists anticipated. Unexpectedly strong payroll growth and retail sales in May also illustrated that point.
The worst of the downturn appears to be in the rearview mirror for now. Still, the ongoing spread of COVID-19 and the policies targeted at containing it present significant risks to the path forward for the economy. The rebound clearly underway creates reason for hope — the ongoing health risk provides reason for caution.
Media mentions:
Our experts were recently quoted on this topic in the following publication: