Why not hold cash instead of bonds?
Holding cash as a long-term investment and not just a source of immediate liquidity can be detrimental to long-term purchasing power.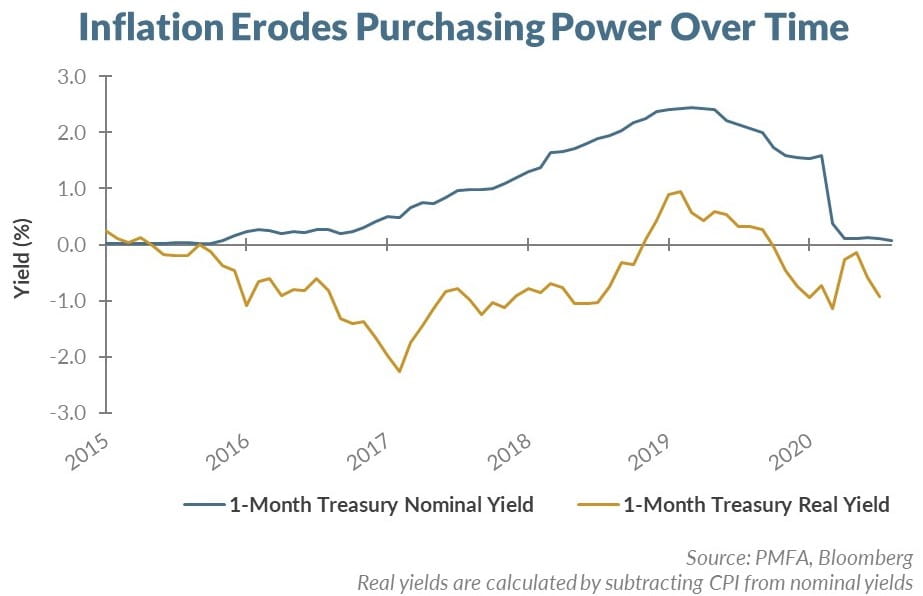 With yields currently exceptionally low across much of the fixed income market and the expectations that rates will rise at some point, investors may question the wisdom of investing in bonds rather than simply holding cash instead. Why take on the additional duration risk of longer-term bonds when the incremental yield is low?
However, cash isn't an ideal substitute for bonds. As shown above, real (inflation-adjusted) yields on cash investments (as approximated by the one-month U.S. Treasury yield) have typically been negative, indicating that returns on cash haven't kept pace with inflation. The result? Holding more cash in the portfolio than is needed for short-term liquidity needs can erode the portfolio's purchasing power over time.
Certainly, the income generated by high-quality bonds today is limited, but still exceeds cash yields. Over a given period, bond values may decline as interest rates rise, but the yield-to-maturity and value at maturity is known, as long as the issuer doesn't default — a very improbable outcome for high-quality bonds.
The bottom line? Cash might seem safe, but in inflation-adjusted terms, is likely to lose value over time. Maintaining a reserve to cover near-term expenses is advisable; replacing a strategic bond allocation with cash isn't.