What's the risk of expiring unemployment benefits?
While the job market has shown signs of improvement, millions of Americans still rely heavily on pandemic-related unemployment benefits.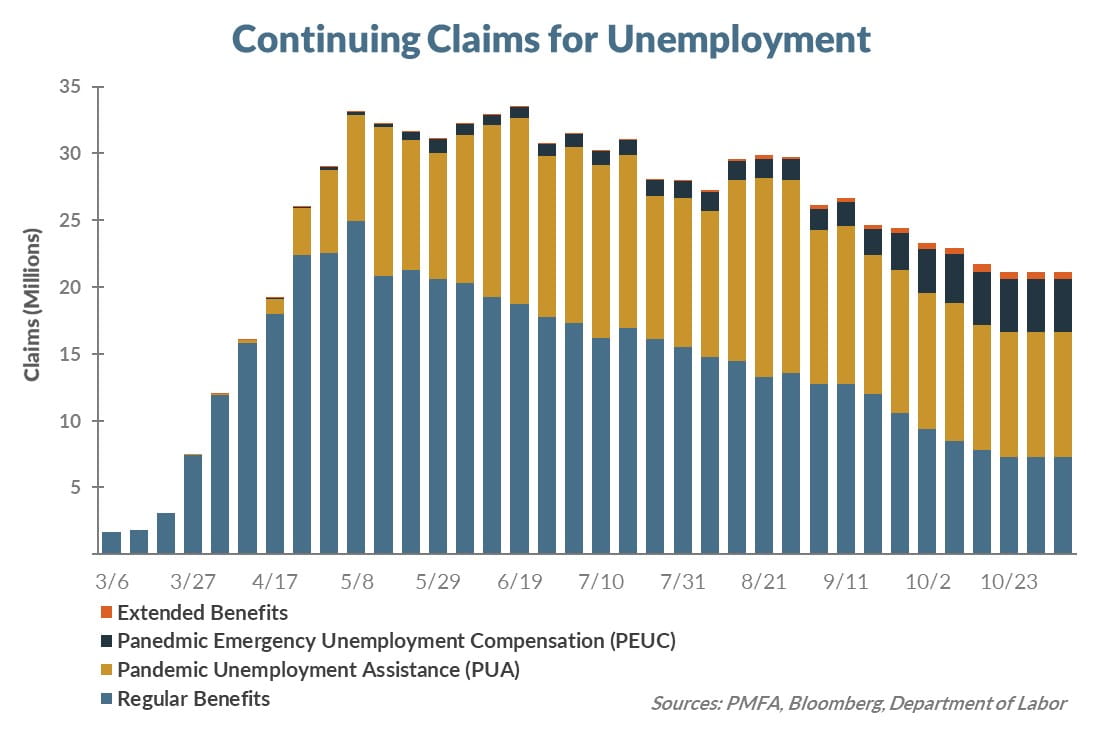 The ongoing COVID-19 pandemic has taken a significant human toll, while affecting day-to-day life to varying degrees. Those changes have also impacted the U.S. economy with widespread effects on businesses and consumers across the country. Of particular note is the disruption to the labor market, as millions of workers faced layoff — either temporary or permanent. Despite the significant gains since May, more than 21 million Americans are still collecting unemployment benefits, down from the peak of approximately 35 million earlier this year.
Government policymakers sought to soften the impact of job losses by providing enhanced unemployment benefits to bridge the financial gap for many households that experienced a loss of income. As the chart illustrates, a majority of benefits being collected today are from two pandemic-specific programs: Pandemic Emergency Unemployment Compensation (PECU) and Pandemic Unemployment Assistance (PUA), both of which expire at year-end. Without an extension of benefits, the economy could be faced with an income cliff that could add further pressure to an economy where the newest wave of COVID-19 is forcing many states to initiate lockdown measures.
While bipartisan support for further fiscal stimulus still seems clear, the devil is in the details: how soon, how much, and who will benefit are all critical questions yet to be answered. However, with further lockdowns likely to constrain economic growth and over 60% of unemployment benefits set to expire, policymakers should be motivated to find a compromise — a critical step to sustaining the recovery.