E-commerce and supply chain logistics: Trends to watch
E-commerce represents a monumental shift in consumer behavior. Here, Guohong "Gordon" Lu, general manager of the U.S. subsidiary of JD.com, shares his insights on the rapid growth and latest trends in the e-commerce and supply chain industries.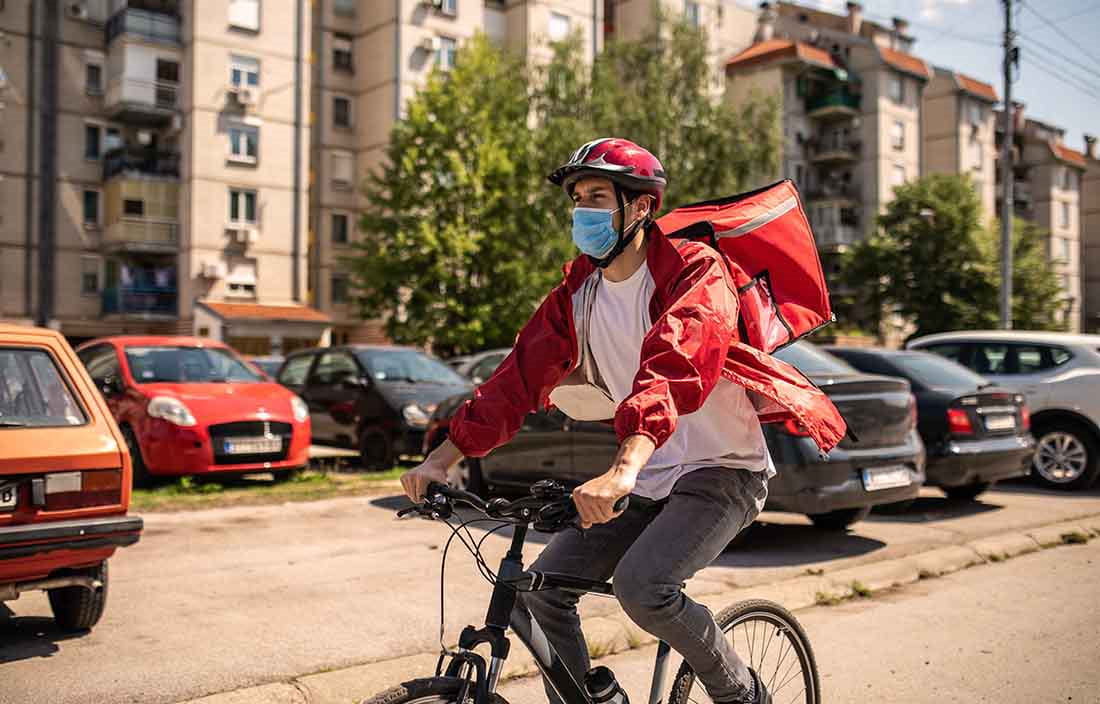 Gone are the days when consumers flocked to brick-and-mortar stores to shop. More and more of us are getting comfortable shopping through online platforms — especially with perks such as next- and same-day delivery, smart automation, convenience, and discount offers.
We spoke with Guohong "Gordon" Lu, general manager of the U.S. subsidiary of JD.com, about the latest trends in the rapidly growing e-commerce business and supply chain industry. Here's what he had to say.
COVID-19's impact on e-commerce and supply chain logistics
This pandemic has emerged as one of the biggest factors accelerating the growth of e-commerce, not only in the United States but throughout the world. Consumers now have access to a plethora of products delivered right to their doorstep without having to put their safety at risk. Firms have been able to continue their operations while adhering to social distancing and other safety measures.
COVID-19 has forced e-commerce to broaden its horizons to include new companies, new products, such as fresh groceries, and new consumer segments (even our parents and grandparents are shopping online). As a result, the last-mile delivery, online-to-offline (O2O), and fresh-food delivery capabilities for retailers, e-commerce platforms, and third-party logistics (3PL) providers have seen rapid development and growth. (E-commerce is the fastest-growing 3PL market segment.) COVID-19 has also shifted the focus from high-end products to everyday items, with demand coming from a larger percentage of the population than ever before.
However, COVID-19 also has brought many challenges for supply chain companies that are working remotely. One of the key issues is higher communications costs. Some problems or issues that could have been resolved easily before the transition to working remotely have proven harder to fix afterward.
In order to improve efficiency, JD.com has created more standardized and visualized workflows to ensure that each phase of the work can be carried out without hiccups or delay. With more standardized and transparent operations in place, teams can work with information at their fingertips, and those in charge of downstream work can be fully prepared for the upper-stream work.
Big data and artificial intelligence: The future of the supply chain industry
For the supply chain industry, data is an indispensable tool for reference and decision-making. In the borderless internet retail scenario, the relationship among consumers, products, and e-commerce platforms has been redefined with the support of data.
Big data and AI can provide consumer insights and improved functionality to e-commerce platforms and logistics and supply chain companies.
E-commerce: Big data and AI can help companies create customized recommendations for consumers by using data based on the contents of virtual shopping carts, reasons for abandoned carts, and the use of automated chatbots, as examples.
Logistics: Thanks to AI, companies can derive information and insights — such as delivery packaging, weight, and the like — from images, detect anomalies, perform quality assurance checks, or build delivery schedules.
Delivery: Optimum delivery routes, warehouse planning, minimum delivery times (next- or same-day delivery), and more can all be generated with the help of big data and AI.
The future of supply chain and logistics companies will continue to rely — heavily — on big data and AI technologies. Take JD.com as an example. Its e-commerce platform offers over 5 million JD self-operated SKUs and products from thousands of private retailers in consumer goods, apparel, furniture, 3C digital, and other categories. Its market coverage ranges from first-tier cities to townships across China, but over 90% of orders can be fulfilled with next-day delivery. Data plays a crucial role in the evolution and upgrade of the platform, especially in designing and managing supply chain networks structures and channels. JD uses logistics technology, cloud computing, and data analysis for the mass orders generated on its platforms every day to conduct analysis and parsing — from the smallest fraction analysis to macro trends across the entire supply chain — to optimize supply chain efficiency.
At the same time, with the help of AI, the company can rely on automation to greatly improve the efficiency of operations. JD's logistics division uses an intelligent and standardized system of order management, inventory management, distribution, and terminal distribution to ensure the timely and accurate delivery of a massive number of orders moving through the entire supply chain network. High transparency is guaranteed from the moment the order is placed so the customer can clearly track the overall process.
Fragmentation driving transformation of supply chain industry
For a long time, major e-commerce platforms like Amazon, eBay, Alibaba, and others received the lion's share of the online shopping business. However, as more small and individual players are entering the market, consumers' shopping preferences are becoming more decentralized and diversified due to many influences: social media, independent sites and platforms, availability of customized products, key influencers, livestreams, and other platforms. Demand has shifted from the major e-commerce platforms to smaller independent players, which has led to fragmentation of supply chains, adding further complexity and challenges to supply chain management.
So, how do the big e-commerce players intend to tackle the challenges?
In order to maintain a high number of daily active users (DAU) and customer loyalty, mainstream e-commerce platforms are making efforts to adapt to the changing market demands to retain and/or increase profitability and traffic flow of businesses on their platforms. This requires fundamental transformation in multiple areas, including more customized and interactive user interfaces and new functionality, rebranding, and repositioning strategies.
Who will prove the most successful? E-commerce businesses and supply chain service providers who are able to maximize their outreach and improve operational and logistics efficiencies of users will lead the competition.
If you're wondering how best to plan strategically for industry transformation in the digital era, don't hesitate to reach out to our global supply chain management experts.