Keats CEO Matt Eggemeyer: Manufacturing a strong culture
Starting on the shop floor and working his way up to the C-suite, Keats Manufacturing CEO Matt Eggemeyer learned the secret of many successful multigenerational organizations: investments in staff and culture pay for themselves many times over.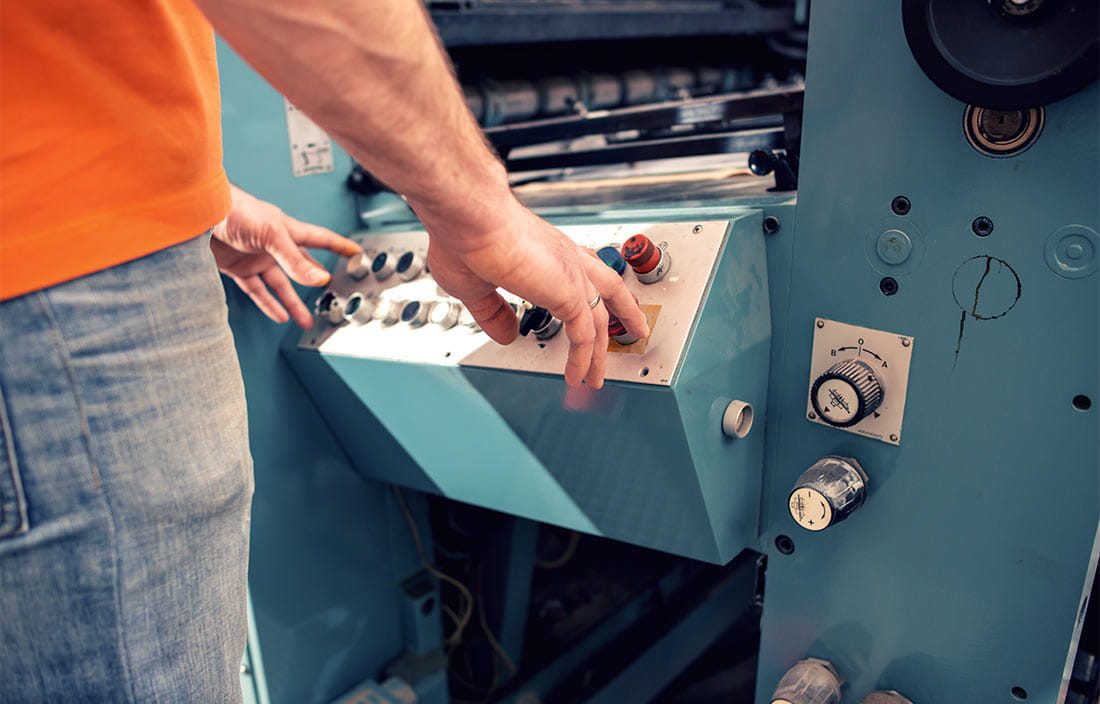 Matt Eggemeyer fondly recalls his first job with Keats Manufacturing — helping out on weekends in the "sorting department," which happened to be in front of the television in his great grandmother's living room. He and his sister would count parts and put them in envelopes ready to be picked up by his grandfather on a Monday morning. Years later, Matt joined Keats as a college graduate eager to learn the rest of the family business. He never left.
Matt started his career on the shop floor working in various positions, including machine operator, quality control, shipping, and truck driver. As the company grew, Matt was offered an opportunity to move into an office position overseeing human resources.
Matt quips, "I never got an MBA; I got a 'KeatsBA.' It was super valuable for the position that I have now."
Today Matt oversees the growing multigenerational precision metal stamping business started by his grandfather and great uncle in 1958. When he joined the company in 1991, it had around 60 staff, which has grown to about 240 people today. The company is headquartered in Wheeling, Ill., with additional operations in El Paso, Texas, and El Marqués, Mexico.
Matt's unique path to the top ensured he understood the business well but, more importantly, he learned about the people who formed the backbone of the company.
"Manufacturing is not about the processes or the documents or the machines. It's all about the people who run the place — not the owners or the executives — but the folks out on the floor."
His early years working on the shop floor gave Matt high respect for the staff's technical abilities and a solid realization of how critical they are to the company's success. With the manufacturing world becoming more globalized and commoditized, he connected business survival to not just outstanding products but a professional, forward-thinking, and satisfied staff connected by a strong culture.
To advance the culture, Matt started promoting manufacturing as a profession — not a "job" — and invested in the tools and modern workplace environment the staff needed to be top performers.
Another key part of professionalizing the company was eliminating segregation between management and floor staff.
"Breaking down the wall between the executives and the folks that work in the shop was critical in building our culture. I want the office staff to know everybody in the shop; I want them to know their stories — it's a big part of the culture piece."
Matt says, over time, these changes led to increased buy-in and a strong owner's mentality among Keats' staff.
"What makes Keats unique is the staff who act more like owners than the owners do because they love what they do and they love the company. It makes my job easier because I've got great people running this company, and they like being here."
We have a similar story at Plante Moran. Over our nearly 100 years as a firm, we've learned that a well-nurtured culture brings people from the entire organization into a similar alignment. Our founding partners understood that if you coach staff on the culture, treat them well, and get to know them, you'll get that owner's mentality in your organization. The result? Our staff love serving clients and will always go the extra mile when needed.
Matt's next challenge was ensuring continuity of his staff for an upcoming generational shift. He noticed that older staff had the vital skills needed to run the operations, but there wasn't a strong pipeline of younger people coming up to replace them.
To prepare for the inevitable churn, Matt adopted a philosophy similar to that used by baseball executive Theo Epstein to successfully rebuild the Chicago Cubs baseball team in 2011. Epstein recognized the limits of using acquired information or statistics-driven data as a basis for making hiring decisions, and he rejected hiring models that diminished important human traits like character, capacity to build relationships, and the ability to cope with adversity in a positive manner.
So instead of focusing his staff search solely on candidates with existing skills, Matt set out to find people with interest, drive, and ambition and move them through a "farm team" system. He discovered that giving people a chance to grow with a company — and learn its culture — was a recipe for success.
"Skilled staff don't grow on trees; somebody has to train them. So why not train them yourself and build a culture that will benefit you? That was the epiphany I had 15 years ago, and I'm very happy with the investment."
Matt's tree metaphor reminds me of a philosophy we have at Plante Moran, "The Orchard Theory." Internally, we often refer to the firm as an orchard with "trees" — our clients and staff — that have been planted at different times, bear different kinds of fruit, and have different lifespans. When new staff come to the firm, they have the benefit of capturing the fruit from trees that were planted before them, but they also have a corresponding duty to plant new ones for those who follow. We call this stewardship.
What leadership traits has Matt found to be most valuable? One of his management mantras is "keep a light hand on the wheel" to avoid making knee-jerk reactions that can disrupt lives and leave the business vulnerable to setbacks. This was put to the test in the early days of the COVID-19 pandemic that Matt describes as a "terror ride."
"Nobody knew what was going to happen. We had all these dedicated people with great skills, and the last thing I wanted was to see them on the street — I wanted to hang on to all my all-star team.
"So we didn't jerk the wheel too much and get carried away with layoffs or furloughs. Instead we kept people engaged in the shop throughout the pandemic. Some manufacturers cut too much, and when they had to ramp back up, their staff was gone. We kept a light hand on the wheel, and it worked out. That was another good investment."
More from Matt
On a career path in manufacturing:
"For years, manufacturing has had a bad rap for being a dirty and dangerous, low-paying job. Anytime I get a chance to speak to people, I try to dispel the rumor. It's quite the opposite. Manufacturing is fun, it's safe, it's high-paying, and it's a career with transferable skills."
On change:
"People hate change. But in manufacturing, one thing's for certain — if you don't change, you're dead. So I'm always asking if there's a better way. I'm constantly challenging my staff to change."
On the value of a history major:
"I was a history major in college, which may seem like a worthless endeavor to some. But history teaches you to learn from past mistakes. With that background, I watched what happened here, how it worked, and how we could learn from the past and improve on it."
Leadership personality profile
Your leadership approach in one word: Patient

The leadership quality you most admire in others: Gathering of all facts before making decisions.

Your best piece of business advice: Don't lecture, ask questions.

What you look for when you hire: Ambition is more important than degrees.

To be an effective leader, you: Need to be a critical thinker.