Bundled payments are coming: Will you be ready?
Here's how one large health system jumped right in to Medicare's bundled payments initiative. Ignore the coming changes at your peril; organizations that sit on their hands will lose ground.
I am convinced that if the rate of change inside an organization is less than the rate of change outside, the end is in sight. — Jack Welch, former CEO, GE
Deciding whether and when to adopt an innovation is among a leader's most critical duties. Today, healthcare leaders are faced with an array of alternative payment models. But which ones have staying power? And how can healthcare providers make these new models work when most of their revenue is still coming from fee-for-service payments?
Trinity Health is placing its bet on bundled payments. In April 2015, 32 Trinity Health hospitals, 12 skilled nursing facilities, and three home health agencies entered the risk phase of Medicare's Bundled Payments for Care Improvement initiative (BPCI).
The Centers for Medicare and Medicaid Services (CMS) initiative, which reimburses healthcare facilities and providers for an entire episode of care rather than for each individual service, aims to improve care coordination and quality while lowering costs.
Trinity Health's primary goal in participating in the program is to "gain experience in risk-based payment and longitudinal patient care," says John Capasso, executive vice president of the Continuing Care Group at Trinity Health. "We felt like we needed to get in the game to learn how to do this."
With Medicare throwing its considerable weight behind alternative payment models, healthcare providers that get in early will be more competitively positioned for success when these payment models become standard operating procedure. On the flip side, organizations that sit on their hands will quickly lose ground.
Capasso warns that the Department of Health and Human Services has the power to convert BPCI into permanent policy anytime within three to five years of the pilot project's 2013 launch.
"When HHS makes a determination about a new payment system, all providers will be subject to it," Capasso says.
CMS recently showed that it's serious about this shift from volume to value with a proposal that would make bundled payments mandatory for joint replacements in more than 75 locations. This bundled payment proposal is huge news, especially for those providers who assumed that bundled payments would remain voluntary for the foreseeable future.
Still need a reason why you should care about bundled payments now?"
Even if you're not in the bundled program, you may have hospitals in your market or physician group practices that are in these bundles, and you have the potential for them to discharge patients to you," Capasso says. "So if you haven't done care redesign, you need to be thinking about it and anticipating that you're going to work with the bundled framework going forward."
How bundled payments work
After launching BPCI in 2011, CMS announced the first set of participating organizations on January 31, 2013.
The pilot consists of two phases. During Phase I, or the preparation period, facilities choose the bundles in which they will participate. CMS makes this decision easier by supplying each participating facility with baseline pricing from 2009–2012 for each of 48 DRGs requested by the facility, alongside the facility's actual claims data for each DRG. "It was an easy decision, if our claims were already less than the target price," Capasso says.
Phase II is the period during which facilities that have been approved by CMS assume financial risk for the chosen DRGs. The final date for healthcare facilities to decide whether they will move forward with the risk-bearing phase of the program was Oct. 1, 2015.
BPCI is comprised of four models of care.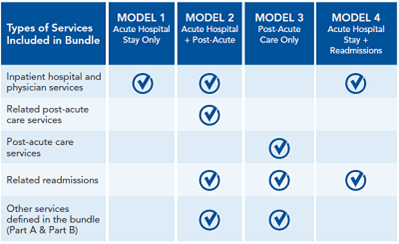 For all models of care, Medicare sets target pricing based on a baseline measurement period and then discounts those fees by a certain percentage based on the model. All models except Model 4 involve retrospective payment in which Medicare pays the provider a discounted FFS payment and then spends the next few quarters reconciling those claims and "truing up" payments.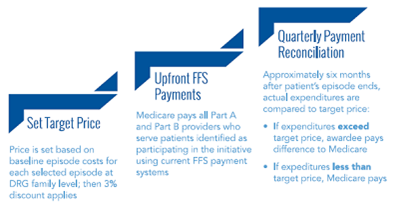 Despite the complexity of the system, bundled payments hold the potential to drive substantial savings for participating providers, Capasso says. He offers an example of how one facility's reimbursement under BPCI might look before and after reconciliation (see chart below). "It's really a pretty good deal, if we can make it work," he says.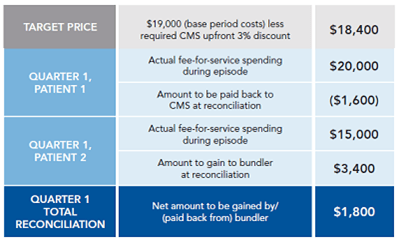 Trinity Health projects millions in returns — eventually
Trinity Health projects annual returns of about $4 million through its hospitals' participation in Model 2 bundles, and about $1.3 million from its SNF and home health agencies' participation in Model 3 bundles.
Of course, these returns will come only after the lengthy reconciliation process. In the meantime, the health system is spending millions on infrastructure and staffing to make the models work ($1 million in expenses on the post-acute side and $7 million on the acute side).
So how will Trinity Health maintain its already slim operating margins in the meantime?
An organization-wide initiative called Transforming Operations is moving the system closer to industry benchmarks on operational metrics such as productivity, dietary cost per bed, housekeeping cost per bed, and size of administrative staff.
These cost-saving efforts will become even more important with time, since Medicare will continue to exert downward pressure on providers' revenue, Capasso says.
"What I predict is going to happen is that the target period will no longer be 2009–2012. It will be 2012–2015," he says. "Those of us that are already under these pressures are pulling those target costs down so that the target pricing with that discount is going to be even lower. So, the pressure will continue toget ratcheted down and the reimbursement will continue to decline, because organizations will do it better and better."
Challenges of participating in BPCI
Between April 1 and April 30, 2015, Trinity Senior Living admitted 87 patients into BPCI bundles and experienced five hospital readmissions, Capasso says. It's too early to say whether the senior living division is on track to meet its projected returns. But Trinity Health clinicians have shared a number of observations about the challenges and opportunities.
Verifying discharge DRGs from the hospital is protracted.

Nursing homes and home health agencies typically don't know immediately whether the patient is in one of the BPCI bundles, often for a week or more, Capasso points out. "I go back to my comment that we have to treat everybody the same, like everybody is in the bundle," he says.

IT platforms are not capable of tracking patient status after discharge.

To address this challenge, Trinity Health is planning to participate in Patient-Ping, a national care coordination network that notifies a patient's healthcare providers in real-time whenever and wherever their patients receive care.

Expensive episodes have the potential to upset the apple cart.

In the first 30 days of the program, Trinity Health was on the hook for a patient who was admitted with acute myocardial infarction and then required cardiac surgery. "So that's going to be an expensive case. But part of the benefit of being part of a big system is that the risk pool is large," Capasso says. "Hopefully, some of the cases we have over the course of the year will offset some of those more difficult cases."
Capasso says that bundled payment initiatives will evolve as CMS tracks results and feedback from participating organizations — most likely shifting to more of a prospective payment system — and Trinity Health is positioned well to evolve right along with it. "We're trying to change things internally as they relate to culture, as they relate to the way we view quality of care, patient experience, and just about everything that we do along those lines."
Or, as Jack Welch says, "Change before you have to."