Do stocks perform better when Congress is controlled by a single party or when control is split?
Stock returns have been better when Congress is split but have also generally performed well when both houses are under common control.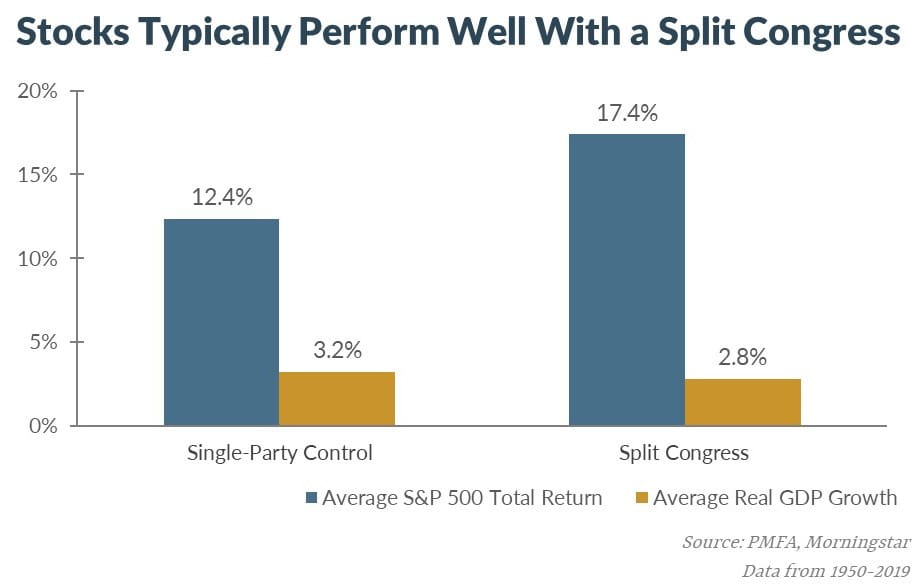 In 2018, Democrats claimed a majority in the House of Representatives, while Republicans maintained control of the Senate, creating a split Congress. The upcoming election opens up the potential for this to change, with 35 Senate seats up for grabs this year and polls suggesting that several seats are still in play. Of the 35, Republicans currently hold 23, with 12 held by Democrats, putting the GOP in a position in which they have to defend more seats to maintain their majority in the upper house of Congress. As of now, the Democrats are expected to maintain their majority in the House.
Historically, equity markets have generally performed well when Congressional leadership is split between the two parties. Why? Most likely it's the natural checks and balances that result, preventing either party from making sweeping policy changes, regardless of which party controls the White House. That said, both equities and the economy have generally performed positively in either circumstance.
Shifts in the political climate may create volatility at times, but don't dictate the direction of the market — nor does voter satisfaction with their elected officials. Congressional approval polls have been overwhelmingly negative for over 15 years, having last registered approval of more than 50% in a Gallup poll in April 2003. The S&P 500? That has nearly quadrupled over that period (from 866 to 3328). Stay invested.