Can market performance foreshadow the election outcome?
Markets have shown some predictive power over time, but given the uncertainty of 2020, investors shouldn't assume anything.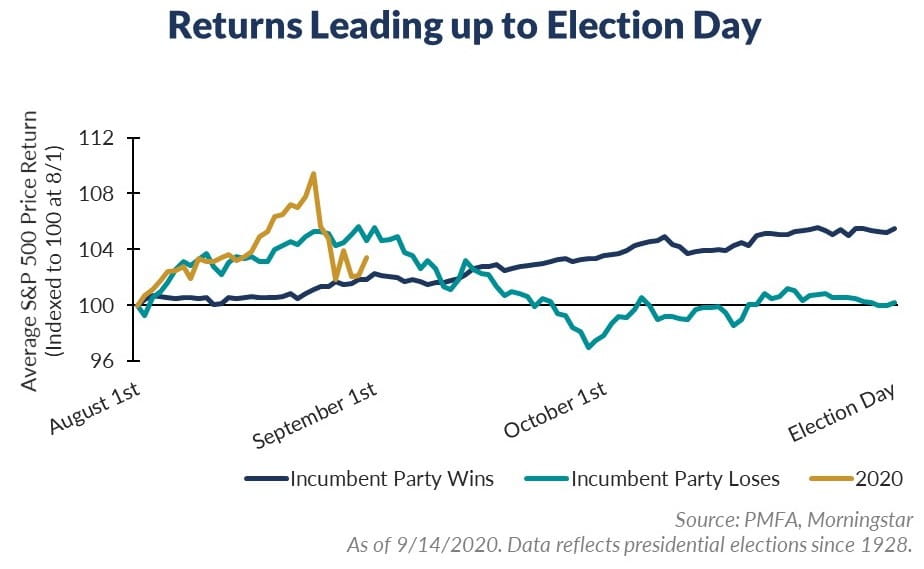 With November quickly approaching, the presidential election is increasingly dominating the news cycle. Over the coming weeks, headlines and commentators will be making predictions on the outcome of the election. However, a look at historical market performance may provide some insight on the topic.
Since 1928, average market returns have exhibited some correlation with the election outcome. On average, strong performance in the final three months before Election Day has been a good sign for the incumbent. Conversely, an uptick in volatility accompanying flat or negative returns during that time has typically foreshadowed a change in the party residing at 1600 Pennsylvania Ave.
Of course, various factors are likely to impact performance in the coming months, including COVID-19 containment efforts and the resulting impact to the economy, potential fiscal stimulus legislation, and geopolitical events. The bottom line is that there are a range of factors beyond the election that could influence investor sentiment and market returns in the coming months.
Changes in party control of the White House haven't meaningfully impacted long-term returns. History is clear: policy changes can create short-term volatility, but the long-term drivers of equity returns are apolitical.