Do presidential approval ratings correlate with stock market performance?
With the exception of extreme periods, equity markets have produced strong returns on average, regardless of voter satisfaction.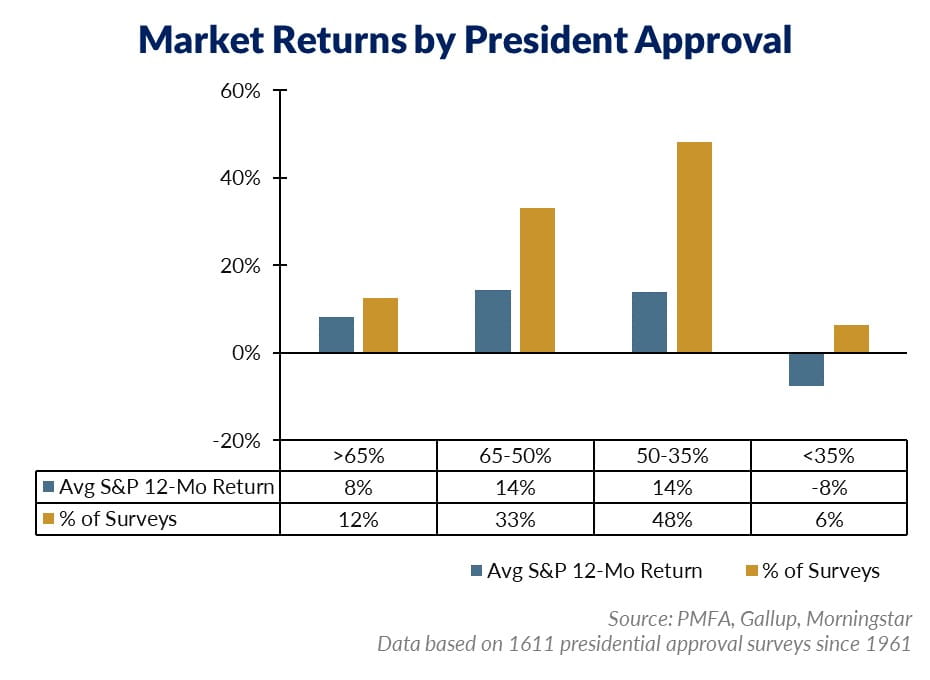 The outcome of the November election remains unclear, with many close races in key battleground states likely to decide the outcome. However, what is clear is that many Americans are dissatisfied with the state of politics today, as both presidential and congressional approval ratings are well below 50%. But does a heightened discontentment with politics or policy extend to a negative environment for stocks?
As illustrated in the chart above, voter satisfaction has not correlated strongly with stock market performance. Equities have typically performed well even with presidential approval ratings below 50%. The exception would be during periods of extreme disapproval (under 35%), which tend to correspond with recession or war — both of which represent significant sources of uncertainty for investors. Those periods tend to be relatively brief, occurring only 6% of the time. Perhaps surprisingly, average S&P 500 market returns have been higher when presidential approval ratings have been moderately below 50% than when they were above 65% — which often correspond with tragedies or heightened risk, such as in the aftermath of the Kennedy assassination, the first Gulf War, and Sept. 11.
Though the outcome of the presidential election is still uncertain, history has shown long-term performance trends of the stock market tend to be largely unaffected by political outcomes or general voter satisfaction. Stick with your long-term plan.