2020 in review: Strong equity returns and a potential turning point in market leadership
In spite of an extremely challenging and volatile year, equities posted strong returns, with small-cap and international stocks rallying in in the fourth quarter.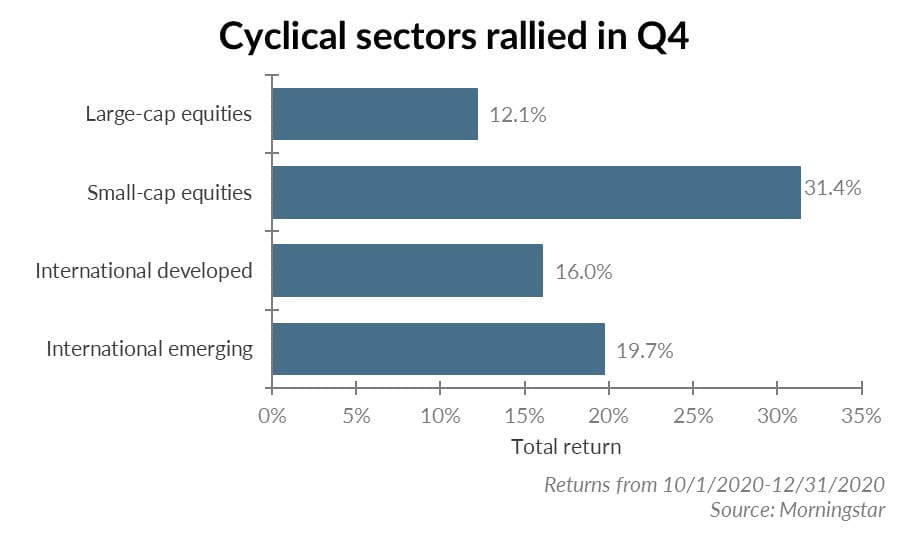 2020 got off to a challenging start for investors, as a historically steep market selloff led to the S&P 500 losing more than a third of its value in only a few weeks. At the time, as virus cases skyrocketed and stay-at-home orders were mandated across the country, it was hard to envision a positive outcome for stocks and other risk assets for the duration of the year. However, from an investment and economic standpoint at least, 2020 ended in a much better place than most would have expected. Equity markets ended the year with strong returns across the board, boosted by an exceptional rally in the final few months of the year.
The fourth quarter may have marked another meaningful turning point for the market, as cyclical sectors and small-cap and international stocks began to outperform the large-cap stocks that had led the market in recent years. Small-cap value stocks in particular posted a notable rebound, rallying more than 33% over the fourth quarter.
In spite of recent outperformance, we believe that international and small-cap value equities continue to be attractive areas for investors, as valuations in these markets remain much more reasonable than that of U.S. large-cap equities. While valuations aren't a reliable timing tool, they're a much better indicator of long-term returns. With large caps and tech stocks coming off a period of strong performance that left them comparatively expensive, a sustained change in market leadership wouldn't be a surprise.