When affluent children grow up: Navigating unintended consequences of family wealth
When we talk about family wealth, we tend to think about it from the wealth creators' perspective, but what about their children and grandchildren? We share common challenges and ideas for navigating unintended consequences of family wealth.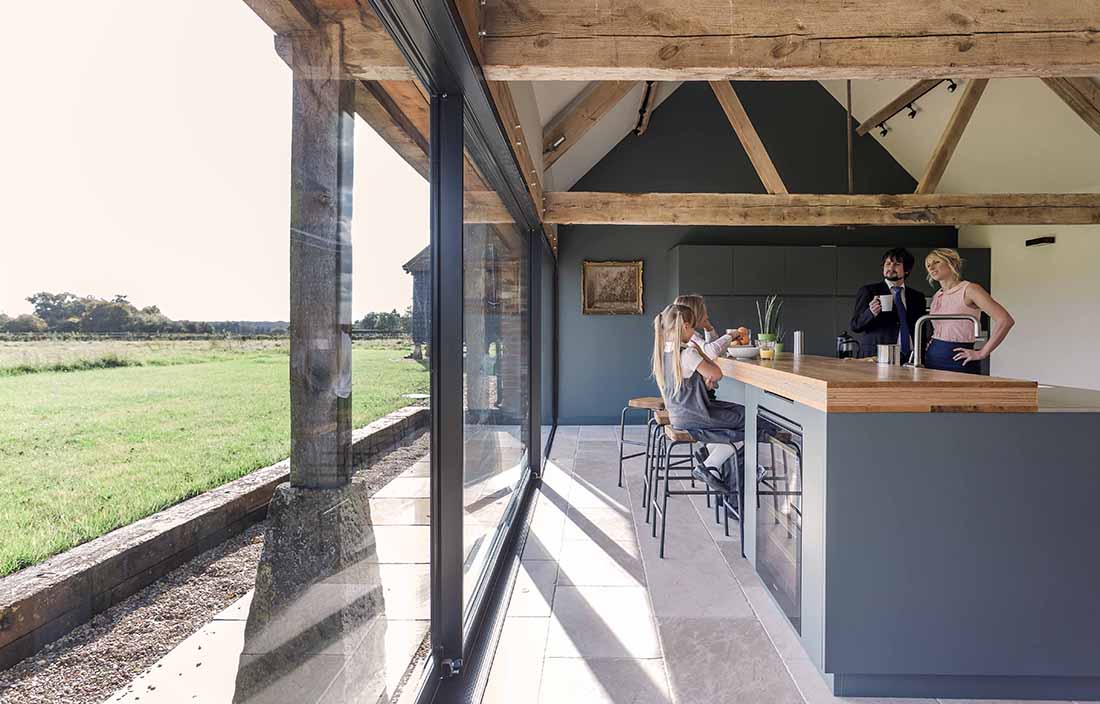 When we talk about raising affluent children, we most often look at it from the parents' perspective. But what about the perspectives of their children and grandchildren? There's a real misperception that being the beneficiary of parents' or grandparents' success is all "rainbows and sunshine." Our experience working with multigenerational families tells us otherwise.
Second- and third-generation inheritors rarely achieve the financial success of their parents and grandparents, and most are well aware of this reality at an early age. It's a major cause of concern for many and influences their decisions and behavior in both positive and negative ways. Here, we share some common challenges and how both parents and children can navigate these unintended consequences of wealth.
Varying perspectives
The challenges of creating wealth versus maintaining or growing wealth differ, as do the sense of ownership and responsibility. The table below outlines the worries we hear most from wealth creators and near-term inheritors.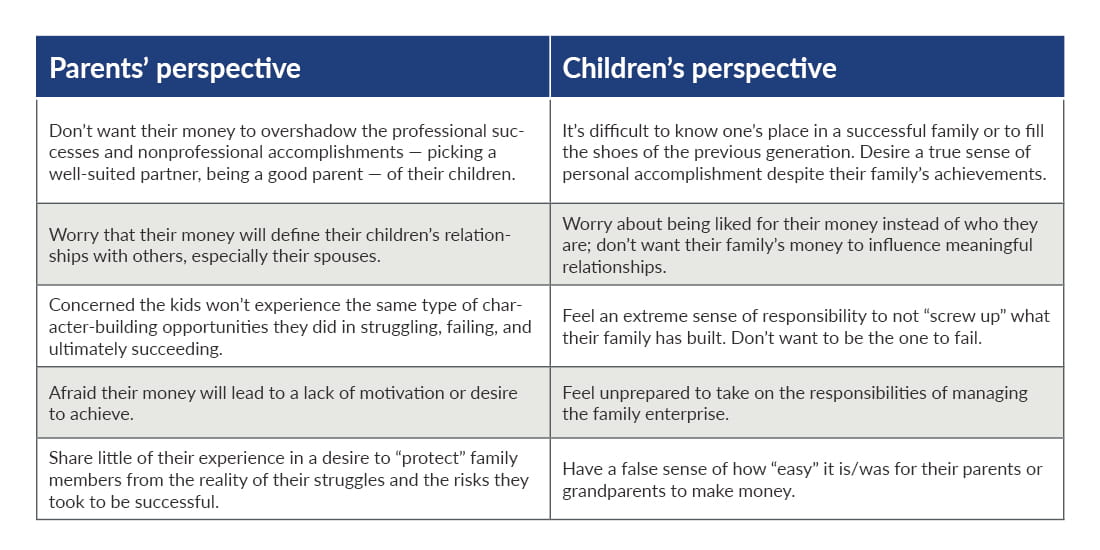 All these concerns are legitimate and relatable, and part of the solution to the angst is simply acknowledging its existence. These worries often become the "elephant in the room," creating unnecessary undertones in many conversations and decisions.
One example: Building wealth and focusing on the future
We work with a family whose patriarch took on extreme risk and made significant sacrifices that ultimately led to a burgeoning business that was sold in the last decade. While he was building this enterprise, he and his wife raised four children in a middle-class household, doing their best to shelter the kids from the ups and downs of the business. Today, all the children are doing well and live completely independent of the parents' wealth. One of their daughters is extremely successful in her chosen field, and their son-in-law's work at two successful tech startups has created significant financial success for him and their other daughter. While this is exactly what the parents had hoped, they still worry about their wealth and how it will affect their children — despite the children's independence and individual success. Will the children's behavior change when they learn more about the family's wealth? Will the money overshadow the children's early successes?
In contrast, the kids are just becoming aware of the family's success, and they're more motivated now to make their own ways in the world. They're not looking for "handouts;" they don't intend to stop working; and they're curious to learn more about their parents' expectations.
In this case, the wealth creators, who have been worried about raising entitled children, have done the right things. They, and other parents in similar situations, need to keep going down this path even when their children are adults. Certainly, the activities are different — think family meetings and estate flowcharts instead of lemonade stands and piggy banks — but the stewardship is the same.
Considerations to guide you when talking about family wealth
Consider the following ideas to help work through the concerns:
Share the stories that define your family and that help your children understand where you came from. Set an example by sharing your experiences, and don't leave out details that seem insignificant. They make you seem more human, and they're generally the nuggets your children, and their children, will hold on to.
Provide your children with opportunities both to achieve and to misstep. Encourage new endeavors that ignite their passions and stretch their comfort zones. This might be making their first investment, starting their own business, or buying a first home. Better to learn about risk and reward on a small scale, even if it means a modest investment loses value or an early business venture doesn't pan out as expected.
Use major life events as opportunities to share information and set expectations, but be careful not to wait too long. For example, many parents want prenuptial agreements signed before their children marry. This is a much easier expectation to set before your son or daughter is engaged.
Use philanthropy as a tool to better understand individual world views and to make collective decisions. The process of making decisions about something outside the family often generates curiosity, lessens hesitation, and ultimately creates greater solidarity.
Use major life events as opportunities to share information and set expectations, but be careful not to wait too long.
Too often the fears we've outlined become self-fulfilling prophecies, but the issues facing most successful families can, in fact, be used as opportunities. As Helen Keller said, "Character cannot be developed in ease and quiet. Only through experience of trial and suffering can the soul be strengthened, ambition inspired, and success achieved."
The challenges of navigating the privilege and responsibility of being a wealthy family can present opportunities to build individual and family character. The families that endure aren't those that avoid struggles. On the contrary, they're the families that tackle challenges head-on using their collective strength and ability to see each other's perspective.