Why have equity valuations improved over the past year?
Earnings growth was exceptionally strong last year, validating the expectations of investors. Future earnings growth is expected to slow but remain positive.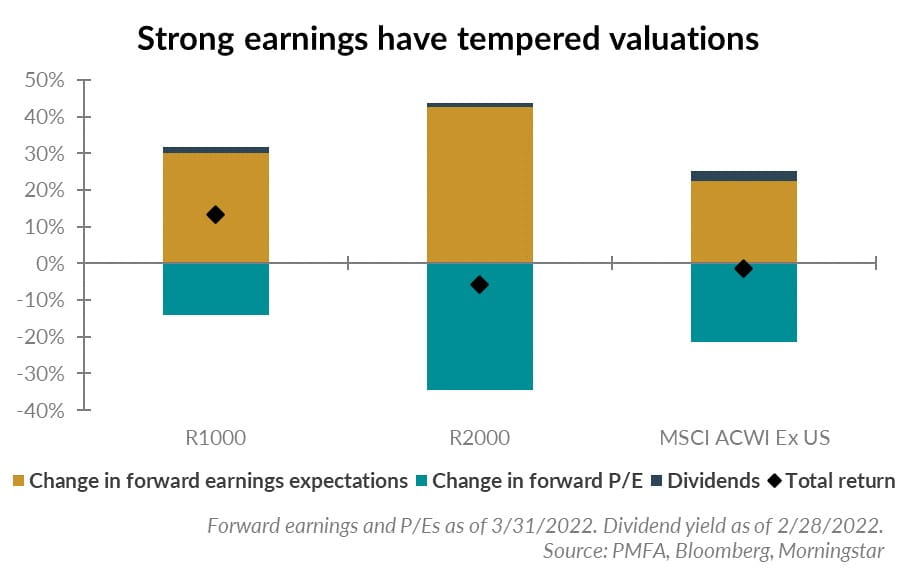 What was behind the notable contraction in equity multiples over the past year? As the economy bounced back in 2020, corporate earnings also rebounded much more quickly than anticipated. Robust stock market returns didn't keep pace with earnings growth, which was even stronger. As illustrated above, earnings growth globally topped 20% for the year ended March 31, led by a gain of more than 40% for the Russell 2000 index of small-cap stocks. The recent downdraft in markets since mid-December has also played a role, but a relatively modest one by comparison. The rebound in earnings has been a major factor, with dividends contributing modestly as well. Although earnings growth for the coming year is expected to be more subdued, the actual results of the last year provide a strong base to build upon.
Any view on valuations should also take into consideration the interest rate environment. Looking ahead, the degree of upside in long-term interest rates remains a significant question. Higher short-term rates are a foregone conclusion at this point, but long-term yields have remained surprisingly well anchored in recent months. An unexpected surge in long-term rates could be a catalyst for additional volatility and a further paring of equity multiples. Given the expectations already priced in, an even more aggressive upward move in rates than is anticipated would be needed to push equity investors to recalibrate their expectations. That would likely mean that inflation doesn't begin to recede over the latter half of 2022 as expected, and the Fed has to pump the proverbial brakes quicker and harder to cool economic conditions.
The bottom line? The strength of corporate earnings over the past two years was a key driver behind robust stock returns but also behind the reduction in equity valuations. As a result, stock valuations generally look more attractive than they were a year ago. Recent volatility notwithstanding, that's good news for long-term equity investors.