How Geisinger Medical Center reduced ED holding by 62%
How did Geisinger's emergency department reduce wait times and overall improve patient flow hospital-wide? Through our customized process improvement strategies.
The challenge: Minimize ED wait times and improve patient flow
Geisinger Medical Center (Geisinger), a large academic medical center in central Pennsylvania, was faced with increased market competition. Complicating the matter was a strain on its overall hospital capacity as a result of high patient volumes and emergency department (ED) patient holds. The hospital turned to our transformation experts to improve patient flow in and out of the ED. We recognized that reducing ED holds is a shared responsibility with the ED and the inpatient units. It's an organization-wide issue that requires the combination of strategic insights and customized team building, education, and training.
The solution: Robust transformation to improve ED efficiency
Geisinger needed to overhaul its ED and create a culture of sustainable process improvement. To help Geisinger achieve its transformation, we used our CLEAR© process improvement methodology and conducted six rapid improvement events to identify processes and behaviors that prevented smooth patient flow in the ED. We then engineered improvements and best-practice strategies to streamline patient services at times of arrival to, moving through, and discharging from the ED.
Team triage: ED flow strategy decreased wait times and delays
Our team triage model was key to reducing door-to-provider time and overall length of stay (LOS). We assembled a multidisciplinary team of doctors, nurses, advanced practitioners, and technicians to define "complete triage" and specified each individual's role in achieving it. This required a standardized, team-based approach to conducting assessments. The team triage model worked because labs and x-rays were ordered as patients arrive, patients moved to disposition faster, and providers were supplied with the data necessary to treat patients effectively and promptly.
Impact of team triage model:
Door-to-provider time was reduced from 17 minutes to nine minutes.
Arrival time from ED to inpatient unit was reduced from 347 minutes to 268 minutes.
Patient satisfaction increased for key metrics: ED arrival, ED overall assessment, and ED overall comfort of waiting area.
"I can only say it was the most expedient visit I have ever had to an emergency room. I was immediately seen by the triage nurse. I met the resident within two minutes. The doc supervising the ER was in within five minutes, and I was gone. The whole visit lasted all of 15 minutes. I was shocked and relieved it was that quick." — Amanda, ER patient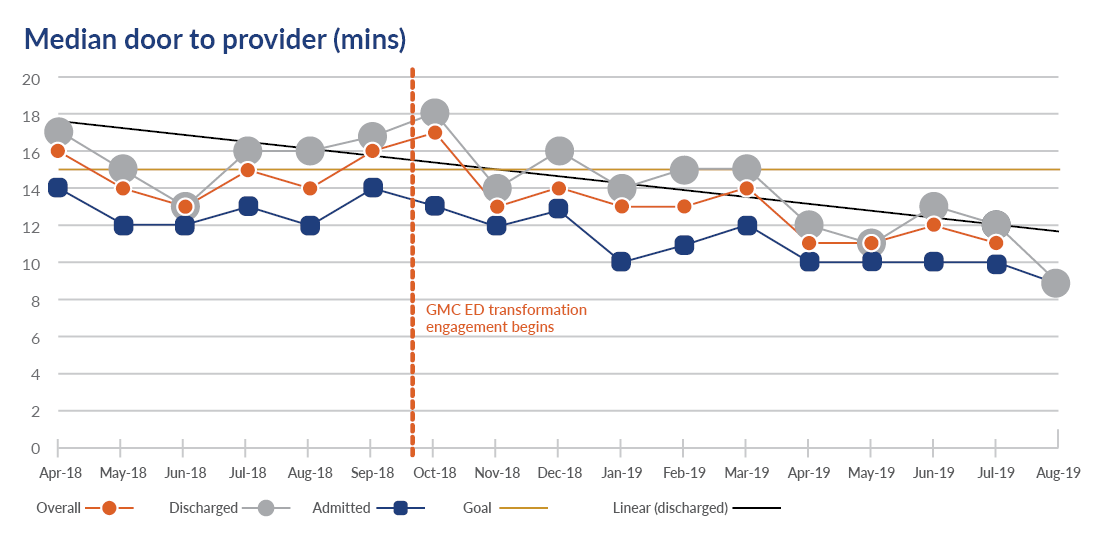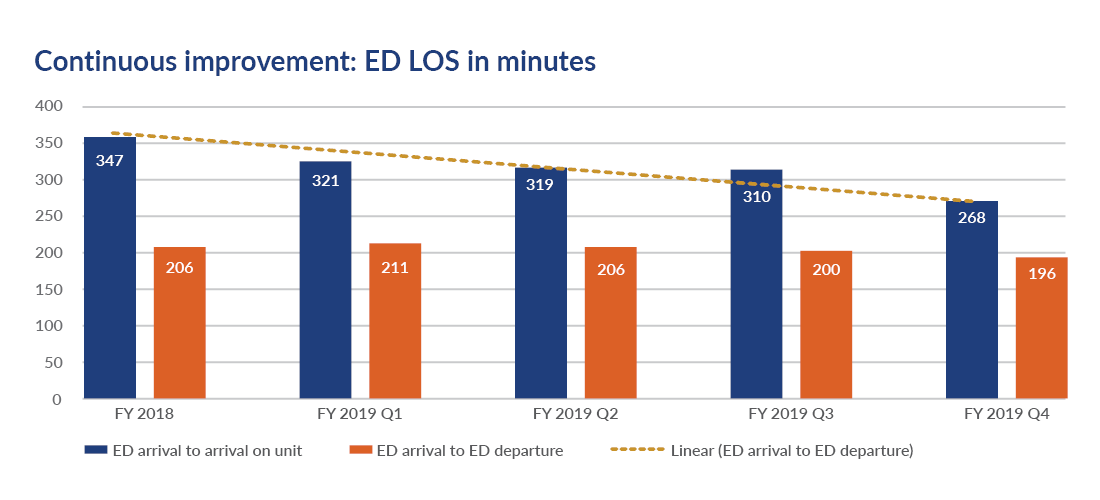 ED utilization management: Establishing a working diagnosis at admissions improves the quality of care and reduces denials
We designed a more collaborative relationship between ED providers and the utilization management (UM) team that enables UM to place patients in the correct financial classification according to a working diagnosis assigned at admission. By doing so, Geisinger ensures that care is appropriate and necessary based on provider recommendation and payer criteria.
Impact of ED Utilization Management:
Projected reimbursement loss due to downgrades were reduced by more than $1 million.
The time from patient arrival to the first UM review was reduced from 30 hours to 14 hours for all patient's hospital-wide.
UM provides real-time reviews during peak ED hours.
Surge protocols: The impact of boarding patients in the ED
With our support, Geisinger restructured its surge protocol to swiftly decompress the ED during times of surge. We helped them understand the factors that led to overcrowding, so they could set an appropriate threshold on when and how to activate their surge protocol. As a result, they recognized that when the ED is congested, it's not necessarily an ED challenge—it's a hospital-wide challenge.
For each patient greater than five in count holding at noon each day, there was a 20-minute add in the ED length of stay for every patient admitted that day. As a result, if 10 patients were holding at noon, every patient admitted had 100 minutes of additional ED LOS before they were bedded.
By taking an expanded approach, our surge plan incorporated a multidisciplinary, hospital-wide team to anticipate bed turnover and transfer admitted patients as soon as possible. By prioritizing inpatient discharges and patient placements, Geisinger decreased ED holds and minimized interrupted patient flow.
Impact of surge protocol optimization:
Patients holding in the ED for more than four hours decreased by 62%.
Front-end and back-end issues are clearly defined and easily identified during surge.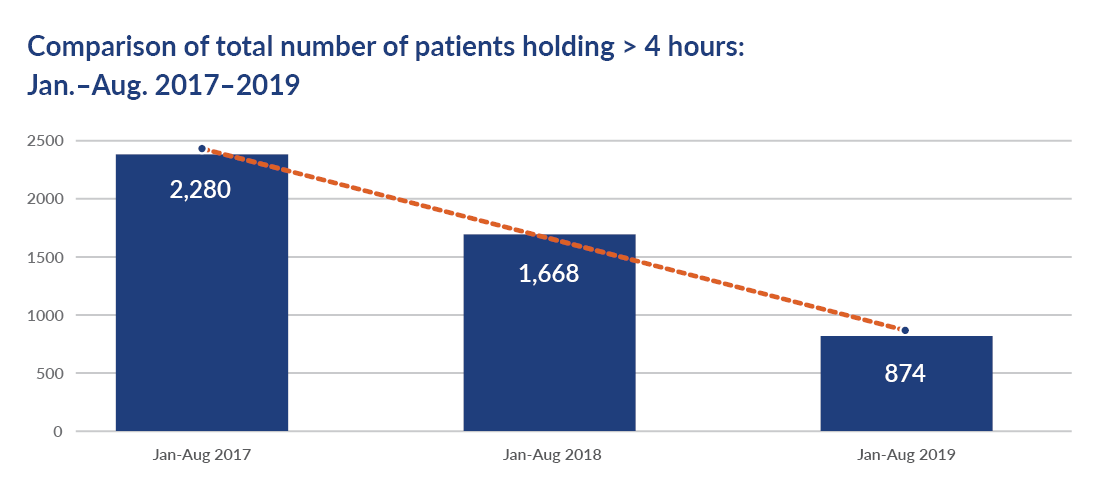 The benefit: Transforming ED processes enhanced patient flow across the entire hospital
Within one year, the ED transformation has significantly improved efficiency benchmarks, increased capacity as well as reimbursement.
Perhaps the most lasting impact is that our CLEARTM methodology has empowered Geisinger to embrace its own continuous improvement strategy. The result? Geisinger staff are empowered to use lean tools to implement tailored solutions and solve problems so that patients and staff both win.
"Our redesigned triage process using the team triage model introduced by Plante Moran was so efficient our providers indicated that their patients were ready before they were." — Brian Evans RN, BSN, CEN, Operations Leader, Emergency Department, Geisinger Medical Center