Fed policy: Will the Fed hold steady or continue to ease?
Heading into 2019, the Fed had plans to hike rates to keep inflation in check and reduce the risk of an overheating economy. Instead it lowered rates. What happened?
Heading into 2019, the Fed had planned to hike rates by about 1% to keep inflation in check and reduce the risk of an overheating economy. Instead, the opposite took place. Since August, the Fed has actually cut rates by 75 basis points in three incremental steps, bringing the funds rate to a range of 1.5 – 1.75%. So, what happened?
In short, economic growth cooled and inflation came in below expectations. In addition, tariffs and uncertainty around U.S.-China trade negotiations coupled with slowing global growth presented downside risks to the outlook, supporting the Fed's recent string of "insurance cuts."
When you consider the Fed's dual mandate — price stability and maximum employment — it tells a mixed story today. While the unemployment rate has dropped meaningfully in recent years to a level well below the Fed's estimate of full employment, inflation has consistently undershot the fed's desired 2% threshold. Ultimately, the absence of meaningful price pressures has provided the Fed leeway to pivot to a more dovish approach.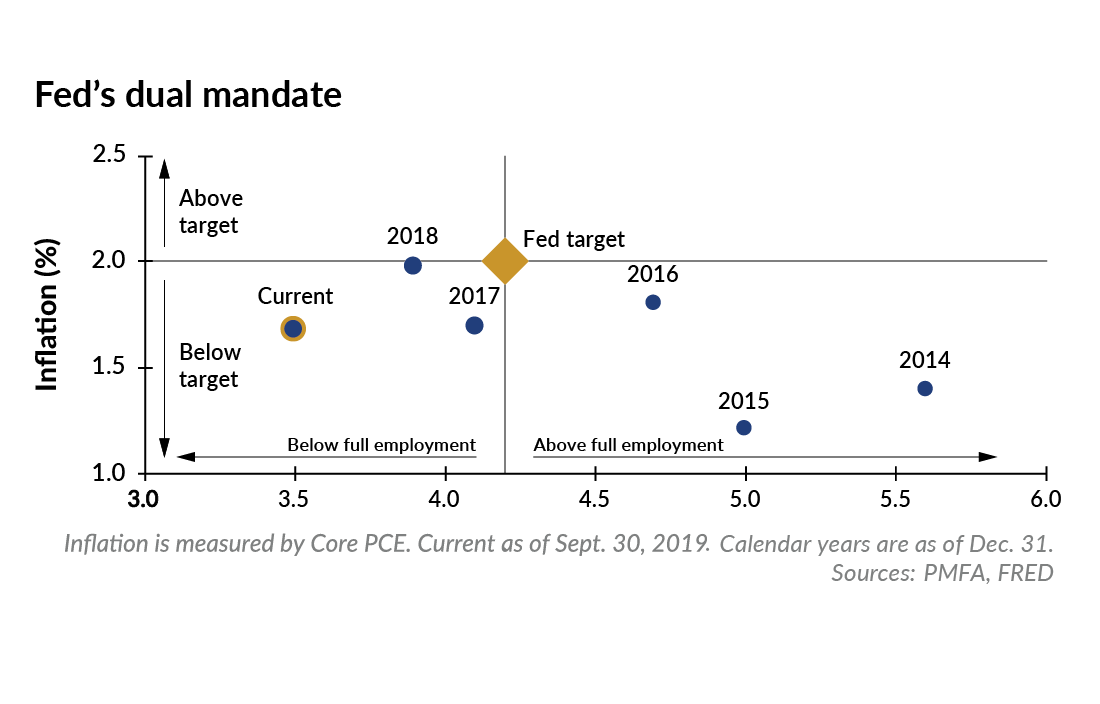 Now as we look ahead to 2020, it appears likely the Fed will hold rates steady, although additional cuts are not off the table if the economy were to unexpectedly slow further. Lower rates have contributed to easier financial conditions, and the positive spillover effects are now becoming evident — particularly in interest rate sensitive areas of the economy such as housing.
Outside of the U.S., numerous central banks are also in easing mode, creating an accommodative global environment for the coming year. Any increase in rates appears highly unlikely in the near term, particularly given the Fed's willingness to let inflation slightly overshoot its 2% target. As such, we believe there's low risk that the Fed overtightening will lead the economy into recession in the near term.
The bottom line:
The bottom line is that inflation appears to be stabilizing and the Fed is likely on hold. Further weakness may prompt additional easing, but the probability of a near-term rate hike is low.