Leverage core competencies on the shop floor and beyond
Auto suppliers struggle to initiate the operational improvements necessary to cement their future in the new mobility landscape. Identifying core competencies needed in the future and how Industry 4.0 technologies can strengthen operations across the business takes a thorough assessment. Here's how to begin.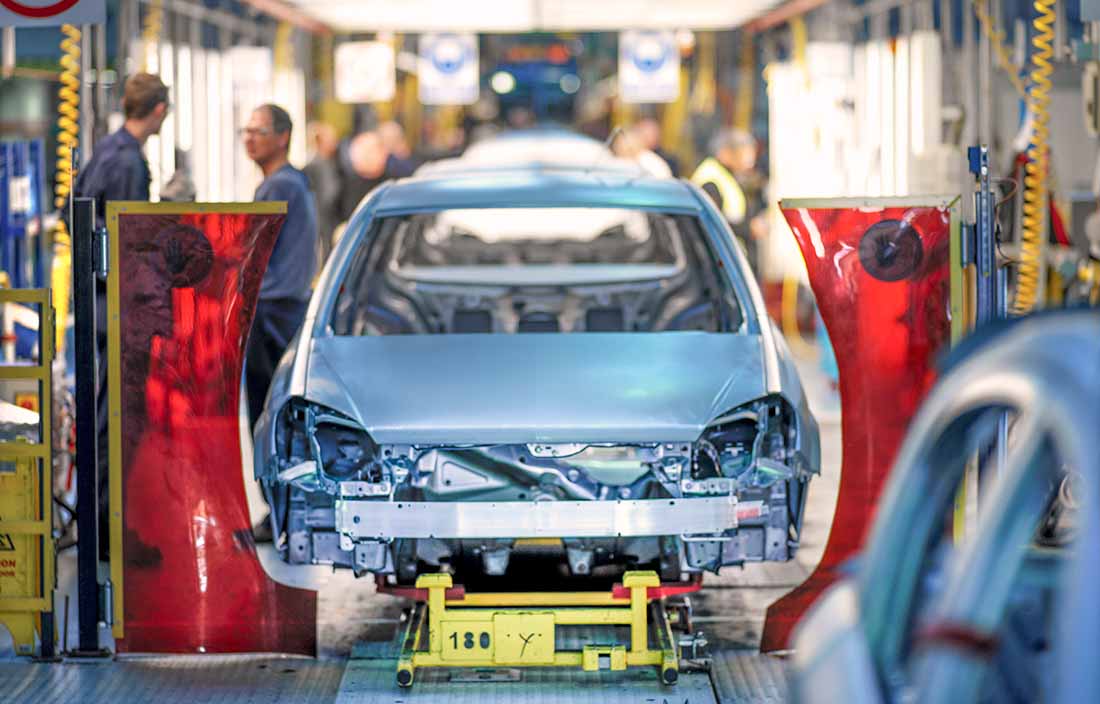 The automotive ecosystem is changing quickly, and suppliers must adapt to maintain profitability and ensure growth. Converging mobility trends — including connected and autonomous vehicles, electrification, and ridesharing and mobility as a service — are compelling businesses to make big changes in operating models, product lines, and customer and supplier relationships.
To adequately address these strategic shifts, companies must first understand their core competencies — what you currently do well and where you need to excel in the future. For some companies, having an agile supply chain is a core competency, while for others it may be a certain manufacturing discipline, such as metal forming or welding. New Industry 4.0 tools and technologies can bridge the gap between your current and future core competencies, strengthening what you currently do well and improving areas critical to success in the years ahead.
Leverage more of Industry 4.0 to improve core competencies
Industry 4.0 tools and technologies can help your business improve internal operations, seamlessly align with customers and suppliers, and more nimbly respond to the marketplace. The real strength of Industry 4.0 is how it powers your data and systems to carry out the transactional-level work they're designed to do, with little manual intervention. Your team then can focus on exceptions. Your employees become problem-solvers.
But business leaders often don't leverage the full potential of Industry 4.0 tools and struggle with leading change initiatives around them. We see organizations every day that take on too many initiatives at once, unsure where to start or lack consensus on which will provide the best return. We see them dive in without clarity around the real benefits those initiatives need to deliver — is it cost savings, improved customer relationships, faster production, a new product or product line? And we see them focus on incremental improvements to existing operations when what they really need are entirely new processes based on digitalization and collaboration.
So how do you identify core competencies and prioritize the right initiatives — and implement the best Industry 4.0 tools and technologies to support them? How do you ensure success in a time of disruptive change in the mobility ecosystem?
Structure the process
Overcoming the pitfalls requires leaders to assess competencies and leverage that information to build a practical, achievable action plan. Wondering if your leadership team has the vision and strategic mindset necessary to take your organization forward in this time of disruption? Take a structured approach, collect the right data, conduct a thorough analysis, and the answer should be yes.
A structured, defined process ensures you:
Understand the real issue you're trying to solve.
Develop data-driven solutions.
Quantify expected results from every improvement initiative.
Develop realistic implementation plans.
Qualify resources to lead implementation.
Quantify all improvement recommendations.
Assess competencies across the business
When business leaders think about operations improvement, they tend to think shop floor, but you should be taking a broader approach. The process starts with an accurate, objective assessment of all business functions, not only production. Many opportunities exist in your relationships with vendors and suppliers, in how you introduce new products, in your supply chain, and in other back office operations and support services areas.
Management structure, too, is critical to examine. What kind of culture does your management team have in place for innovation, quality, continuous improvement, and employee engagement?
Analyzing all three areas — production, back office, management structure — will help you identify core competencies and sharply focus your transformation efforts.
Focus on people, process, and technology
As you assess each of these three key areas of the company, consider people, processes, and technology factors. Industry 4.0 impacts all of them.
When it comes to people, your human resources are one of your most important differentiators and most valuable assets. They define your business by their creativity, skill sets, effectiveness, and efficiency. How can you optimize their engagement and leverage their expertise beyond the transactional level? Do your people have the right skill set to analyze and make decisions from newly available data?
Industry 4.0 enables you to improve core competency areas by integrating data, breaking down traditional process barriers, and leveraging technology and automation to streamline work processes. Re-imagine workflows and methodologies to more seamlessly integrate information and activities to achieve optimal performance. You'll want to do this across the business — with respect to production, customer and supplier satisfaction, strategic initiatives, and organizational goals. Identifying and implementing tailored best practices is the desired outcome here.
When assessing technology, do so through the lens of Industry 4.0, examining your business's digital readiness and use of discrete technologies in and across key functional areas. Examples of Industry 4.0 technologies include 3D printing, collaborative robots, and design simulation software. Keep an eye out for opportunities to seamlessly join processes and remove the manual manipulation of information. This means staff intervention in transactions should take place on an exception-only basis. For example, your buyers should analyze questionable purchasing requirements from an exception list, while straightforward purchases automatically flow through the process.
The evaluation summary should rate your business's competencies against improvement opportunities, process maturity, risk, and investments required.
Choose priority over quantity
We often see business leaders identify numerous improvement opportunities and hit the ground running in many directions.
Don't.
Selecting too many initiatives only leads to feeling overwhelmed, subpar results, and a sense of defeat that will impact employee engagement. To determine where to start, these questions you need to answer, using the data gleaned during your assessment, are this: Where do the real benefits lie, and what drivers are going to move the needle in those areas?
Then, select one to three initiatives, and focus on those first.
Plan and quantify
Now that you know which initiatives to focus on, develop an actionable implementation plan. This is where we see many companies falter. You might have a great idea and start to push it forward, but without a solid plan around it, it's impossible to stick to a timeline, assign resources, or measure results.
As your improvement projects progress, be clear about the benefits you're trying to achieve and make sure you've put mechanisms in place to track those benefits and measure results against them as you go along. This helps maintain focus. It also helps when tradeoff decisions must be made.
See results
Most businesses know when they're facing challenges, and most leaders are good at identifying myriad actions to address them. But individuals come with their own perspectives, lenses, and biases, and organizations commonly struggle to select the right initiatives to drive the transformation needed. That's where a structured approach can change the game.
A structured, objective assessment of current core competencies and those needed in the future and a compelling implementation plan will drive your business forward in the new mobility environment. Together, the assessment and implementation plan enable you to prioritize operations improvements, focus attention, allocate resources, track progress, and measure results.
And speaking of results, when done right, a structured assessment approach helps businesses gain clarity, insight, and measurable benefits very quickly. Within as few as 30, 60, or 90 days, significant changes are possible, ultimately leading to new efficiencies and improved customer satisfaction, employee retention, and profitability as you navigate the future of mobility.