Preparing for disruption: Strategic planning for higher education
Every college and university in the country has been impacted by the COVID-19 pandemic. Your institution's survival may depend on how well it's prepared for the next unexpected calamity. Is your strategic plan up to the task?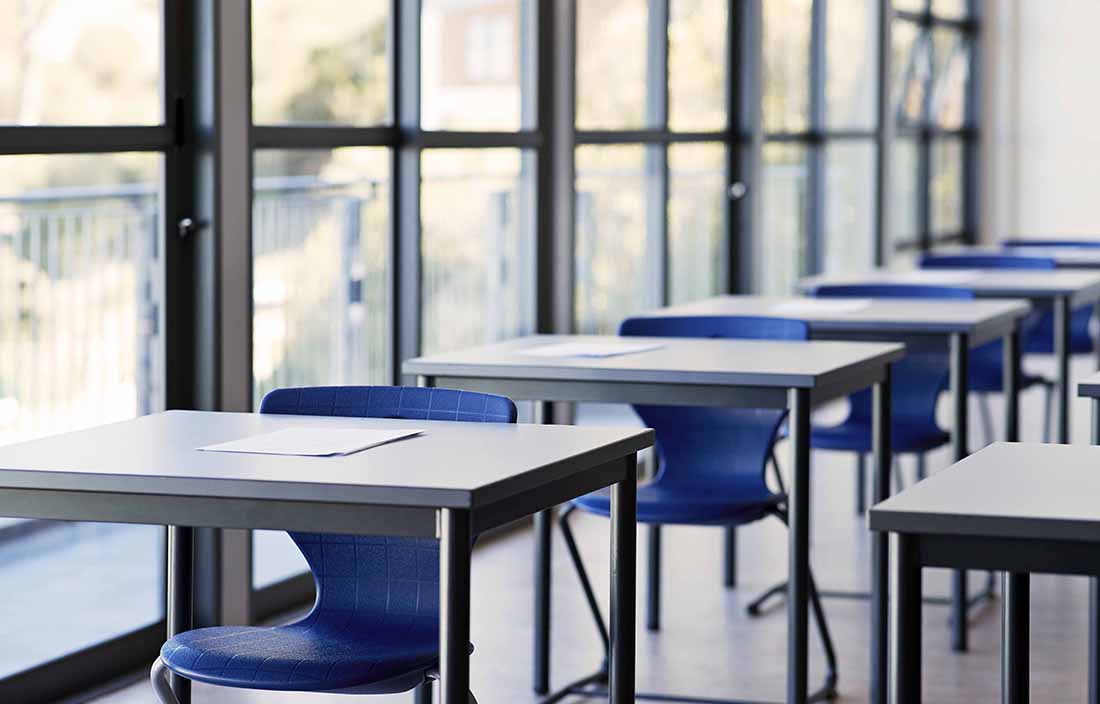 The COVID-19 pandemic has impacted every college and university in the country. For many, the health crisis is threatening financial viability, forcing major budget cutbacks and difficult decisions — whether to merge with rivals or close entirely, and how and where to modify programs and capital plans. Nearly every institution has implemented, or will implement, radical changes for on-campus housing, sporting events, concerts, campus-gathering spaces, and many other areas. Higher education leaders must begin to incorporate the potential for disruption into the strategic planning process — plans should address risk, incorporate agility, and the ability to respond to unforeseen disruption.
Today's crisis has taught us that the current strategic plans don't fully accommodate possible future disruptive events such as a second pandemic, an active shooter incident, or natural disasters that can put financial stress and the future of your institution at risk. At question is how your strategic planning process can help recognize these risks, and in its execution, guide your institution through events that threaten your business model, helping you reduce risk and secure your future.
Getting the strategic planning process right
In virtually every strategic planning effort, higher ed institutional leadership needs to establish cross-functional, multistakeholder planning teams, carefully select a strategy consultant, and amass a host of internal and external data to inform the planning process.
Planning teams wrestle with many issues, including budget shortfalls, reduced or eliminated revenue streams, increased competition for students and staff, improving and differentiating the student learning experience, and institutional affordability. They also must address the uncertainty, and accompanying risk, that these disruptions bring.
The strategic planning teams must do no less than reimagine the future, articulate a clear vision, set strategic goals and priorities, and define accountabilities with KPIs (key performance indicators) and monitoring mechanisms. Revising your strategic plan, particularly amid a pandemic, is a tall order.
Follow this four-step methodology for higher ed strategic planning success
Incorporating risk analysis and planning activities in the strategic planning framework can help address uncertainty, including disruptions that may have strategic, academic-model implications. Strategies that include a systematic approach in managing uncertainty will facilitate the institution's readiness to respond to a wide range of disruptive shocks.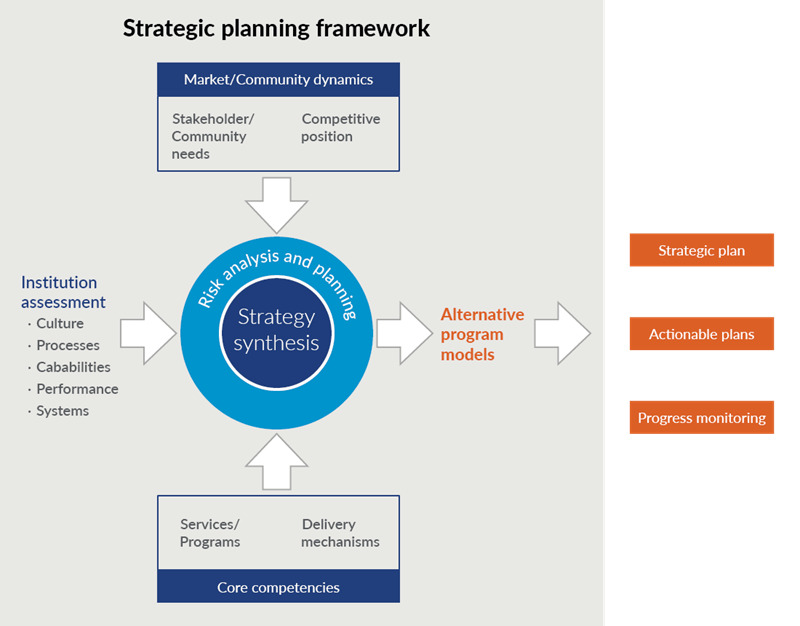 When we work with higher ed institutions, we use a structured, workshop-driven planning process that incorporates risk assessment as part of a highly effective four-step approach to strategic plan development. We outline the four steps, and key questions to ask during each step, below.
Step 1: Institutional assessment
The institutional assessment describes your institution's current state. First, data is gathered from the internal education community through surveys and listening sessions with faculty, staff, administration, students, and campus groups.
Next, planning teams review services and delivery mechanisms. They identify strengths, weaknesses, and core competencies that differentiate your institution from its competitors. They evaluate financials to understand the services and functions that drive revenue and cost. The teams also consider potential uncertain and disruptive events and assess readiness to respond to hypothetical questions and scenarios, such as:
How will classes be delivered if lecture halls aren't available for a week, month, or semester?
How will the institution keep faculty, staff, students, and campus visitors safe if an on-campus threat emerges with limited or no warning?
What operating infrastructure is needed to enable effective responses?
The answers to these and many other questions are then considered during future planning steps.
Step 2: Market dynamics
This step focuses on examining and understanding parent/student, competitor, and higher ed trends. We survey and conduct listening sessions with groups that include high school administrators and counselors, business and community leaders, strategic partners, alumni, grant-making bodies, and state and local education agencies, or leverage your existing insights from these external groups.
Revising your strategic plan, particularly amid a pandemic, is a tall order.
The external audience provides intelligence on the services that deliver value as well as those that don't. With this input, we discover the institution's strengths, weaknesses, and capabilities that distinguish it from competitor institutions. Together we reassess the institution's vision and mission to assure they align with the elements that stakeholder's value. The external audience also shares its expectations of the institution should one or more of the disruptive scenarios occur, including expectations around identifying potential actions, communications, agility, accountability, and governance.
The teams gather comparative data to understand how well the institution performs its mission and meets stakeholder needs in comparison to the industry, competitors, and to common alternatives to formal higher education, such as taking a gap year, traveling, or focusing on an individualized career path opportunity. In assessing potential disruptive shocks, teams consider questions such as, "How would we respond if a direct competitor institution found a way to reduce its fees for the projected student budget by 25% to attract more students?"
Step 3: Strategy synthesis
In this step, the planning teams aggregate the information received in previous steps and align stakeholder expectations with education and community elements, and the institution's perceived ability to respond to major disruptions. This step reveals where any misalignment exists between the institution's program offerings and stakeholder value perceptions. This misalignment, and other gaps uncovered, drive the strategic initiatives that make up the strategic plan.
We draft the initial plan and assess the impact of risk scenarios — essentially pressure-testing the plan against a set of disruptive scenarios. We brainstorm solutions and build risk mitigation contingencies as part of the plan, and we look for additional underlying initiatives or themes to address.
We discover the institution's strengths, weaknesses, and capabilities that distinguish it from competitor institutions.
By the end of this step, higher ed institutions have detailed plans and KPIs to monitor progress towards strategic goals and address risks that could significantly affect the institution's ability to serve the broader education community.
Step 4: Refine and finalize strategy
The final step in the strategic planning process provides time for the planning team to reflect on the work completed and confirm that the:
Vision aligns with internal and external education community value drivers.
Mission and strategic initiatives will more effectively deliver the program elements stakeholders value.
Strategy includes the resources and plans required to respond proactively when major disruptions occur.
Planning teams are prepared to update the strategy as market changes, risks, or potential disruptions emerge.
This final step enables the planning team to confirm their plan mitigates the risk of disruptive events and includes appropriate metrics and initiatives to address the readiness gaps identified. Once complete, the plan can be disseminated and put into action.
Key takeaways
Among other things, the COVID-19 pandemic has taught us that incidents once considered farfetched can suddenly and lethally threaten the viability of a thriving educational institution. Considering risk when performing the steps above — assess current state; uncover your differentiators; align stakeholders and program offerings; reflect and perfect — can help ensure your institution's strategic plan prepares your leadership team to accelerate recovery, improve performance and resilience, and properly respond to the inevitable next crisis.
Not sure where to begin? Give us a call. We have solutions to help you reach your goals.
---
Subscribe to receive quarterly thought provoking digital insights
---