Understanding long-term care insurance: Are you planning ahead?
Many Americans will need long-term care in their lifetime, but few have planned ahead to pay for it. Find out more about traditional and hybrid long-term care insurance policies and how they could help cover these significant costs.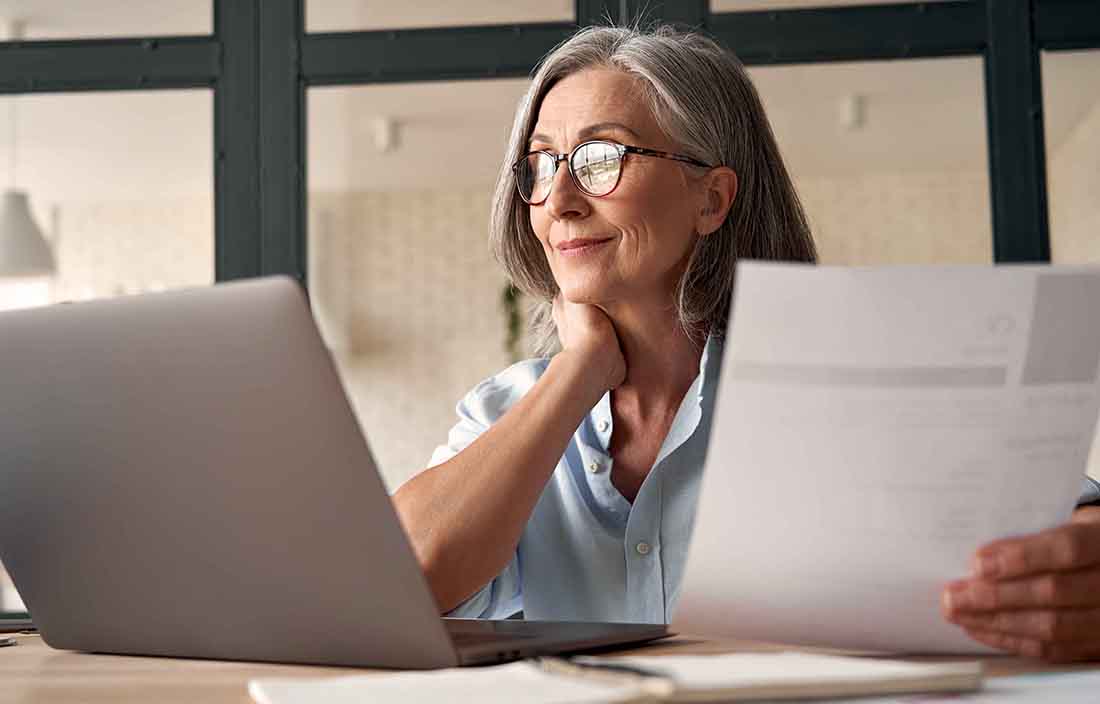 America's population is aging. When it comes to caring for the elderly, the numbers are quite clear. As individuals age, the odds increase that there will come a time when they need assistance with basic daily activities. Statistics show that seven out of 10 people who reach the age of 65 will need some type of long-term care (LTC) during their lifetime1.
Seven out of 10 people who reach the age of 65 will need some type of long-term care (LTC) during their lifetime.
"Long-term care" can mean different things to different people, so it's important to be clear on the technical definition of the term. LTC includes a range of services and supports to meet personal care needs that one can no longer perform on their own. A patient qualifies for LTC when they need help with two or more of the activities of daily living listed below or when they need supervision due to cognitive impairment. LTC can range from skilled care provided in an individual's home to custodial care provided in a nursing home or assisted living facility.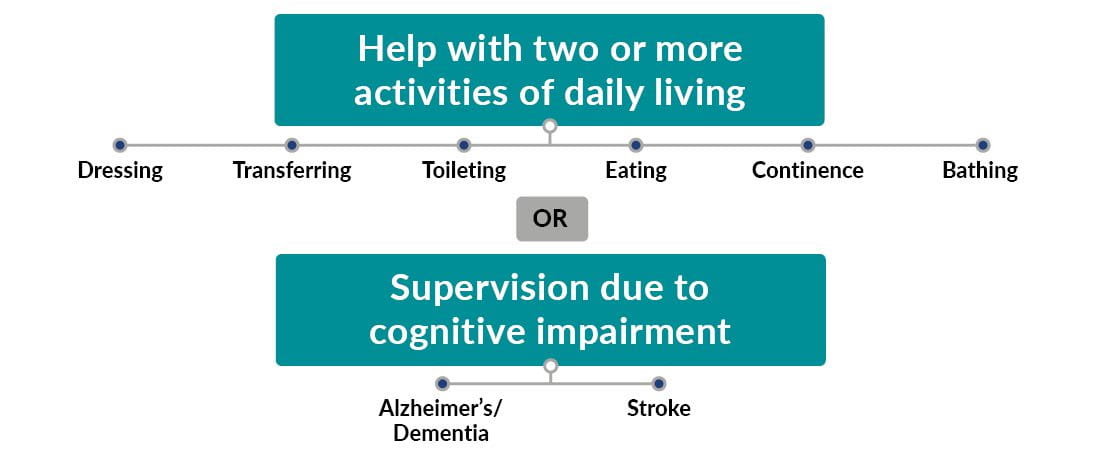 How much does LTC cost?
Given the wide variety of services and supports that fall under the umbrella of LTC, it's not surprising that the costs of care can vary significantly depending on the duration and extent of the care needed and the location of the provided services. For planning purposes, consider these approximate nationwide monthly median costs2:
In-home care: $4,500
Assisted living facility: $4,300
Nursing home facility:

Private room: $8,800
Semi-private room: $7,750
How to pay for LTC
LTC often starts with unpaid care provided by family members and others, but a large portion of patients who need LTC will eventually require some kind of paid assistance. Traditional Medicare doesn't cover this kind of care beyond some skilled care following hospitalization for an injury or illness. Medicaid, which is the largest single funding source, requires patients to exhaust most of their assets before they become eligible for benefits. That leaves most individuals with two options for covering the costs of long-term care — self-funding or some form of LTC insurance.
Self-funding
Some people have sufficient financial resources to believe that they could likely cover LTC expenses out of pocket. Some major advantages of self-funding are:
Maximum control over assets
Convenience and flexibility
Liquidity
No health qualifications required (insurance options require medical underwriting)
However, self-funding can come with some significant drawbacks, including:
The risk that assets may run out during long-lasting LTC events
Inflation risk/market volatility
Lack of leverage on existing assets that are dependent on performance of savings/investment accounts
Tax consequences that can result from forced liquidation of assets
Given the possibility that even the deepest pockets can be emptied by the costs of long-term care, even those who feel they can afford to self-fund can benefit from considering the costs and options available under various LTC insurance plans.
Traditional LTC insurance
Traditional LTC insurance policies operate like auto or homeowner's insurance. Individuals choose the coverage they want, a premium is paid as long as the policy is in place, and they make a claim if/when they ever need the covered services. If the policyholder never needs or qualifies for the benefits, the premiums paid overtime will be lost. Also, like home and auto insurance, the premium is subject to change.
These types of policies have been around for decades and were the first of their kind. In the early days, the policies bought and sold had very generous benefits for relatively affordable costs. Unfortunately, insurance carriers underestimated how much they would ultimately pay in claims, and they overestimated how much they would earn on the premiums collected. As a result, carriers have had to substantially raise premiums on existing clients. Over the years, many companies stopped selling traditional LTC insurance policies, and few options remain today.
These policies can still be attractive for cost-conscious individuals, as they remain the most affordable option on an initial annualized basis. However, it's possible that those who buy these plans will pay more into their policies than they ultimately get out of them.
Hybrid LTC insurance
The majority of LTC policies sold today combine coverage for LTC with another benefit, typically life insurance. These are known as "hybrid LTC insurance plans." In fact, approximately 84% of LTC insurance policies purchased in 2020 were of the hybrid variety3.
The majority of LTC policies sold today combine coverage for LTC with another benefit, typically life insurance.
Like traditional LTC insurance policies, hybrid policies provide tax-free benefits for home health care, assisted living, and nursing home services. These plans can also have highly customized benefits like traditional policies. Unlike traditional LTC policies, if LTC is never needed, a hybrid LTC policy will pay a life insurance benefit to a beneficiary at death. The life insurance death benefit is approximately equal to the premiums paid, and any LTC benefits received during lifetime would reduce the amount paid upon passing.
Hybrid policies are often purchased with a single premium payment or a limited number of installments, making them more costly upfront than traditional policies. However, most hybrid policies have liquidity features that allow policyholders to recover a majority or all of their premiums if they decide to discontinue the coverage.
These policies provide certainty that some benefit will be received at some point in the future, whether it's LTC benefits or a return of premium paid during the policyholder's life, or a death benefit paid to a beneficiary at the policyholder's death.
(Note: This section doesn't apply to life insurance policies with a chronic illness rider.)
Making choices
When making decisions about LTC insurance, it's important to consider one's ultimate financial goals and objectives. Some people feel very strongly about leaving substantial assets to their families, while others are content with spending all assets during their lifetime. LTC insurance can provide peace of mind and asset protection, but there are a variety of options and costs to consider.
If you would like more information, please contact a member of the Plante Moran Insurance Agency team.