Shanghai's COVID-19 lockdown and its impact on the supply chain
Recent COVID-19 control measures in Shanghai have led to production and supply chain disruptions for manufacturers and suppliers globally. Our team shares an update and offers suggestions to minimize ongoing challenges.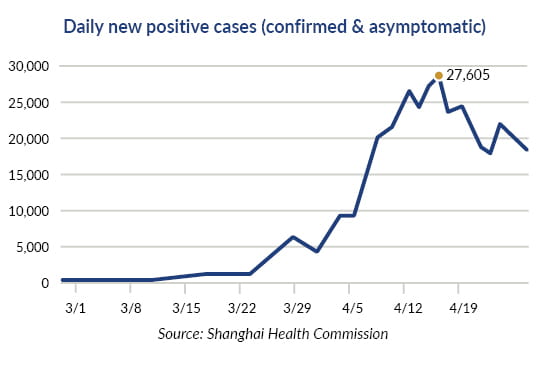 Since March 2022, the highly contagious COVID-19 variant, omicron, has spread across China, with Shanghai at the center of the outbreak. As of April 25, the cumulative number of confirmed and asymptomatic infections in Shanghai for this round of the outbreak has exceeded 500,000.
With the government's determination to maintain "dynamic zero-COVID" control measures, Shanghai has been implementing a citywide lockdown since April 1, with part of the city under lockdown since mid-March.
Impact of lockdown on manufacturers and the supply chain
Shanghai accounts for 20% of China's foreign trade and 14% of foreign direct investment. It's the busiest port city in the world, with container throughput volume ranking first in the world for 12 consecutive years.
Under the strict control measures, Shanghai has experienced stagnated logistics transportation due to factory shutdowns as well as a shortage of truck drivers, workers, and material supplies.
March and April are the busy season for production in China, and the sudden lockdown has caused a series of disruptions in production and distribution for industrial materials, components, chips, and related goods, impacting the automotive manufacturing, electronics, medical equipment, and other key industries.
The disruption of production capacity and supply chain have not only affected local industries but also the international supply chain. Survey results issued on April 1 from the American Chamber of Commerce in China show that over 80% of manufacturers surveyed reported production reduction and supply chain disruption in the recent outbreak.
Lockdown impact is expanding to other cities
In addition to Shanghai, other cities such as Suzhou, Hangzhou, Ningbo, Jiaxing, Huzhou, and Beijing, have seen increasing COVID-19 infection and have begun to upgrade control measures. These include regional lockdowns and temporary closure of highway entrances and exits, which further challenges industrial operations and logistics transportation.
Automotive industry among the most seriously affected by the lockdown
The lockdown is affecting several thousand large-scale suppliers. Almost all leading global automotive suppliers have factories in Shanghai and surrounding cities, including Bosch, Aptiv, Borg Warner, ZF, Magna, Continental, and Valeo. More than 20,000 small and micro-suppliers are also impacted.
Automotive OEMs in Shanghai account for 11% of national whole vehicle production. Given the supply and labor shortage, many OEMs had to suspend production in late March. Tesla's Shanghai Gigafactory shut down on March 29, followed by SAIC-GM, Volkswagen, and NIO on March 31.
Central government takes action to stabilize the logistics and industrial supply chain
In response to supply chain challenges, the State Council led a conference with key ministry departments and local authorities to address the issues and devise solutions to secure production and logistics for industrial manufacturers.
On April 16, Shanghai announced a list of 666 manufacturers permitted to return to work. Among the list, 251 companies are within the automotive industry.
Shortly after the announcement, on April 19, SAIC Lingang factory and Tesla Gigafactory reopened after a three-week shutdown, with 4,000 and 8,000 workers returning to work respectively, operating one shift each day. Over 90 companies in Shanghai International Auto City resumed operation in late April, including SAIC-Volkswagen, Yanfeng, and NIO.
Shanghai's lockdown will ease in May but effects may linger
The past few days suggest a slightly decreasing trend of new COVID-19 cases, and the public believes that Shanghai will gradually reopen in mid-May. However, the lockdown's impact on the industrial supply chain is likely to extend into June or even July.
In addition, the greater challenge for international logistics may come after Shanghai is completely out of lockdown. This is because demand for international shipping may surge as a result of the cargo currently waiting at the port, in warehouses, or stuck in transit.
Key takeaways for international manufacturers in China
For international manufacturers with Chinese operations affected by the COVID-19 control measures, we offer some advice on how to better plan and prepare for ongoing and future supply chain risks:
Reevaluate and adjust your supply chain management plan and risk prevention strategies.
Build up a reasonable level of inventory of core components and materials; ensure inventory stock can meet three to six months' production need.
Diversify and restructure your supply systems and supplier base.
Improve the proportion of standardized or general parts and components.
If necessary, transfer or relocate part of the production capacity to different regions.
If you have any questions about these lockdown measures and their implications for your business, our team in Shanghai is available and ready to help.