The ISM Manufacturing Index eases to its lowest point since June 2020
Manufacturing in the United States continues to expand, although a slowdown is increasingly evident.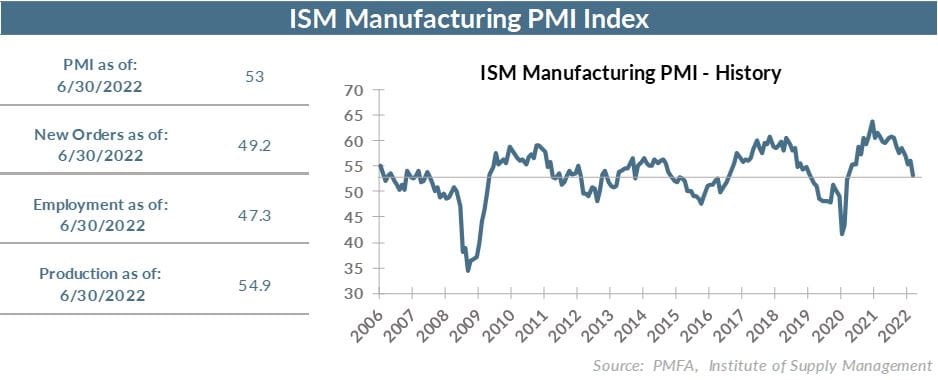 The ISM Manufacturing Index eased to 53.0 in June from 56.1 in May, falling short of economist expectations. The positive print confirmed that the sector expanded for the 25th consecutive month after the brief but steep recession of 2020, while slowing to its lowest level since June 2020, when the economy was finding its footing after COVID-19-related lockdowns shut it down virtually overnight.
On a positive note, production continues to hum along at a solid pace, picking up modestly last month, driven by a solid order backlog. Still, that backlog is easing, as production catches up at the same time that demand is slowing. New orders actually declined last month for the first time in two years, as rising prices weigh on household budgets and sap discretionary spending. Surging prices are exacerbating the slowdown in demand, given that consumer spending is increasingly favoring services over goods. Manufacturers are feeling the effects of that one-two punch.
Although the challenges that have vexed global supply chains since 2020 still exist, there are signs of improvement. Over the long term, a normalization in global distribution and inventory levels will be a positive, but there are still challenges in the near term. Shortages remain apparent, but new concerns are arising around excess product that's starting to flow in.
Some retailers have started to warn about profits taking a hit as some delayed goods arrive, stressing warehouse capacity even as demand softens. Those excess inventories will need to be cleared out — perhaps at steep discounts — to make room for other inbound merchandise arriving in the near term.
At the same time, other raw materials and finished products remain in short supply and may for some time still, pushing prices up. Elevated fuel prices further exacerbate consumer inflation, as the cost of transporting goods has also risen.
The bottom line? The nation's manufacturing sector is still growing but is clearly decelerating. Supply chain issues may be easing but are far from fully resolved. Rising prices, shortages, and delays continue to frustrate consumers who just want to return to a pre-pandemic normal. In time, it will happen, but the road to the next "new normal" remains bumpy.