Is the economic recovery already underway?
Recent economic data has been largely better than expected and consistent with an economy on the mend. Still, risks remain.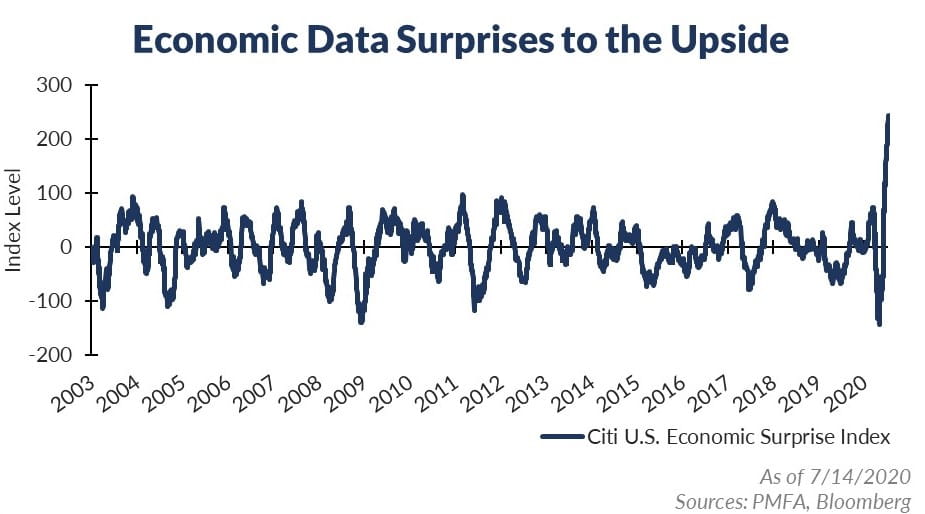 Coming out of a period of considerable pessimism, economic "green shoots" have emerged on a number of fronts. A broad swathe of data related to jobs, retail sales, and the cyclically important manufacturing sector have shown a marked turnaround after shocking weakness just a few months ago. Not only have recent trends been positive, the results have generally exceeded expectations, in some cases significantly.
The recent improvement reflects a sharp reversal from earlier in the year. The economy had generally been on a solid footing coming into 2020 before the COVID-19 pandemic pushed the economy into recession. The speed and magnitude of the decline was without precedent, making it exceptionally difficult to accurately estimate the impact of business closures, shelter-in-place mandates, and massive changes in consumer behavior that occurred virtually overnight. For a time, actual results were much weaker than forecasts. That has clearly changed, as parts of the economy began to reopen and evidence of a nascent recovery emerged that has thus far exceeded expectations.
Still, we would caution that the economy isn't out of the woods. The recent surge in COVID-19 cases and resulting steps taken to reduce risk are a headwind to the recovery. Whether the economy takes a step back as a result remains to be seen, but the current pace of recovery appears to be slowing.