Which leads: The market or the economy?
Economic and market cycles are interrelated, but the capital markets tend to lead the economy on the way down — and on the way back up.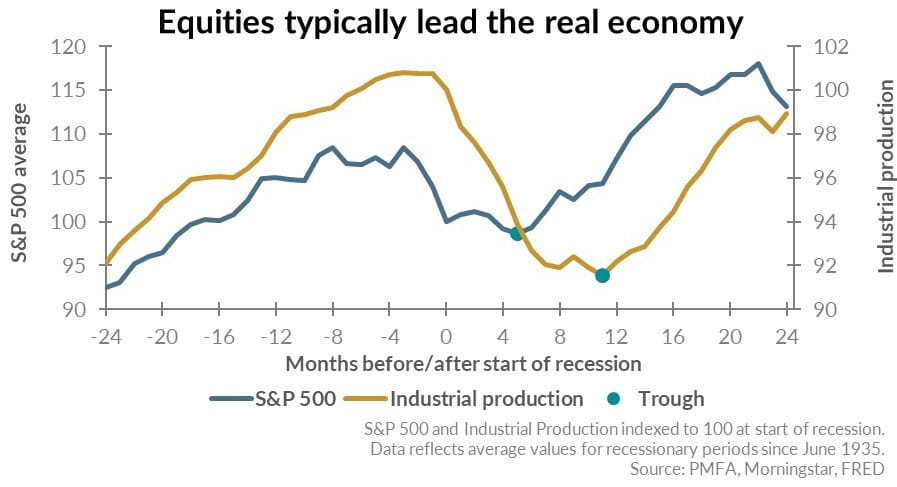 While there is a correlation between the economic cycle and market cycle, it's important to note that the two don't move in lockstep. The first reflects the period encompassing the start of one expansion through a recession leading up to the start of a new expansion; it captures the fluctuation in the actual level of business activity. This differs from the market cycle, which refers to the advance and decline in investment markets, reflecting the changing views of market participants' assessment of value of future business activity and profitability.
As shown in the chart above, the S&P 500 has tended to peak on average about three months prior to a recession while bottoming on average five months after the start of a recession. Notably, industrial production — one key gauge of the cyclically sensitive manufacturing sector — tends to bottom on average 11 months after the start of a recession. Simply put, turning points in the market cycle tend to lead turning points in the economic cycle. This makes sense from a fundamental perspective, as security valuations reflect expectations for future cash flows or earnings. That is, investors gauge current value based on relevant forward-looking conditions. If economic expectations are faltering, the market will sniff it out early, just as it tends to rebound in advance of the actual end of a recession.
What does this mean? In short, the market isn't the economy, and economic indicators are a poor timing tool for making investment decisions. The forward-looking nature of equity markets means that the market prices in expectations for the economy several months in advance. Thus, stocks typically start their cyclical decline while the economy's still expanding and begin their recovery before the economy returns to expansion.
It's impossible to time turning points in the market or economic cycle. While risks to growth have risen in recent months, a meaningful degree of bad news has already been priced into markets this year. Ultimately, moving to the sidelines until the economic fog clears almost certainly means missing the early stages of a market rebound.