Auto supplier impacts: Transformation in the North American market
Shifts in the North American auto market and value chain are changing suppliers' future. We share trends, drivers, and questions suppliers must ask to compete.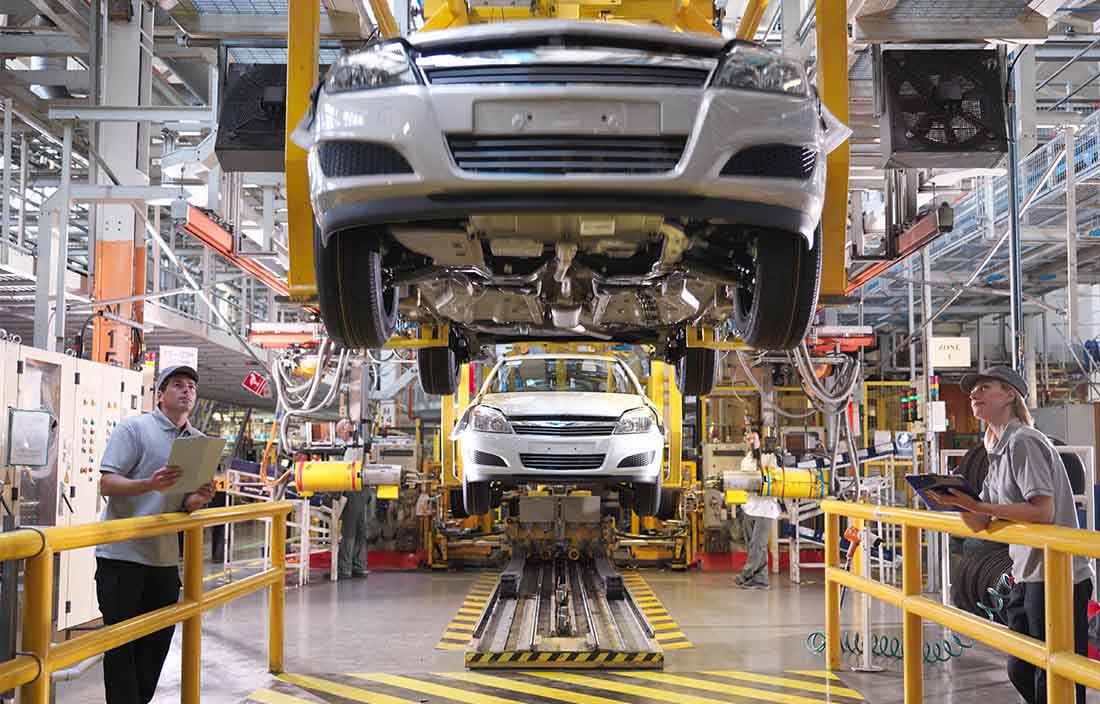 There's never been such a dynamic time in the North American auto market — dynamism that will change the future for suppliers. Supply chain disruption and volatility has impacted — and will continue to impact — production, sales, and vehicle inventory while introducing new vehicles and transitioning to electric propulsion. 2022 marked an inflection point that we're calling Peak ICE. From this point onward, the volume of internal combustion engines (ICE) produced and sold in North America will decline.
The implications for suppliers are game-changing. You'll need to rethink your product and service portfolio, your manufacturing processes, and your customers. Based on many years of research, we share key trends and questions suppliers must consider to compete in this rapidly transforming ecosystem.
Critical trends in the North American auto market
In collaboration with AutoForecast Solutions, our forecasts show that in 2022, production will increase 10% to approximately 14 million units. Even with production recovering, suppliers should note that volume is still down 12% from 2019 levels, placing pressure on margins and dealer inventories. The Canadian market, previously forecast to decline significantly, has gotten a boost from several manufacturers' electric vehicle (EV) production plans.
Even with production recovering, suppliers should note that volume is still down 12% from 2019 levels, placing pressure on margins and dealer inventories.
Over the longer term, our forecast also shows a moderate compound annual growth rate of 2.5% between 2022 to 2029. Suppliers should be cautious about what this means for their business, since growth is front-end-loaded, and the numbers plateau off in the outer years.
In addition, suppliers should ensure their manufacturing footprint positions them for OEM and first-tier sourcing decisions that are driven by the United States-Mexico-Canada Agreement (USMCA) local content and labor rules and the local battery content rules for EV purchase credits in the recently passed U.S. Inflation Reduction Act.
The industry has faced many transition points over the last 10, 15, 20 years but never to the degree it does now. Without a doubt, there will be significant implications for OEMs and suppliers alike. Suppliers will need to develop competitive strategies going forward and be ready to jump on the various opportunities that also exist.
Drivers of auto market transformation
To identify areas of opportunity, consider three key drivers of the current transformation. Electric propulsion demands a new ecosystem: battery and materials supply chain, electric drives, charging infrastructure, energy storage, and battery-recycling systems. Mobility technologies include autonomous vehicles and mobility-as-a-service platforms as well as connectivity and retail services. Advanced "smart" Industry 4.0 technologies will impact every aspect of engineering, manufacturing, and logistics.
Nonlinear growth in EVs: Gradually, then suddenly
The EV transition illustrates the typical nonlinear growth path of new technology. Our EV ecosystem models, developed in partnership with the U.S. Department of Energy, show slow but steady growth in EVs over the last 15 years. While many experts had predicted faster acceleration, the growth curve is now well established.
The model encompasses key variables: fuel, petroleum, and electricity pricing, the number of vehicle models offered, and charging infrastructure and grid capacity — as well as consumer preferences and government influence through recently announced significant productions and consumer incentives and regulations.
Nearly every OEM has converted its capital investment to electric or partially electrified vehicles. For example, GM plans to reduce its number of vehicle architectures and their complexity, going from 550 ICE drive-train configurations to 19 battery and drive configurations based on its Ultium platform, enabled by a multibillion-dollar joint venture with LG.
GM is hardly the only OEM to make significant investments in electric, and autonomous, vehicle technology. And as the volumes rise, cost improvements will follow. In particular, the commonization of cells, combined with chemistry and raw materials developments will have a large impact on driving battery pack costs down.
Connected and autonomous vehicles: Disruptive changes in mobility
While electrification is a dominant discussion in the industry right now, it's certainly not the only topic OEMs and suppliers are focused on. Connected and autonomous vehicle technologies comprise a large part of the research and development (R&D) and investment OEMs, suppliers, and investors are making. By 2025, all vehicles manufactured in North America will have connected capabilities. Given turnover in the fleet by 2035, some 95% of vehicles on the road will be connected.
By 2025, all vehicles manufactured in North America will have connected capabilities.
This supports the infrastructure for mobility-as-a-service, wider use of autonomous vehicles, and new ancillary services and revenue-generating opportunities. As examples, consider pay-per-ride and delivery services, in-vehicle infotainment and occupant services, maintenance, repair, and roadside assistance, as well as parking access and route optimization assistance, among others.
Suppliers represent a tremendous source of innovation. And as OEMs generate more revenue from mobility services, they'll rely on proven, capable suppliers for R&D, engineering, and greater manufacturing responsibility.
Adapting to a volatile future: Auto suppliers' role in the value chain
Industry 4.0 technologies allow the value chain to become less complex and more integrated. In addition, simplified EV "skateboard" platform designs will enable significantly higher production volumes. Suppliers will face critical strategic investment decisions over the next two to three years when identifying which opportunities to leverage in the auto value chain evolution.
How will your product portfolio align with industry megatrends and changing dynamics? Your strategy will need to integrate the transitions to electrification, mobility, and Industry 4.0 manufacturing processes in order to compete. As a start, consider the following questions:
What potential new customers are out there? Are there emerging technology startups that you may be supplying to, and how do you structure your commercial relationships?
What areas of capital investment might you think about making over the next few years?
How are you aligned from a capability perspective to support the industry? What core competencies will you need to succeed?
What M&A or organic growth activities will you need to initiate to build those capabilities?
Take the time to work through these questions — they're fundamental to your future strategy, five, 10, and even 20 years out. The ICE ecosystem is giving way to EV and autonomous technologies, with smart manufacturing simplifying and shortening the automotive value chain. As market dynamics radically change, supplier success requires nothing short of transformation. How will you position your business for the future?
Contact our experts