How has the recent stress in the banking sector affected Fed policy?
The Federal Reserve's decisive actions in recent weeks provided a much-needed dose of liquidity into the banking system but also reversed a significant part of its quantitative tightening efforts of the past year.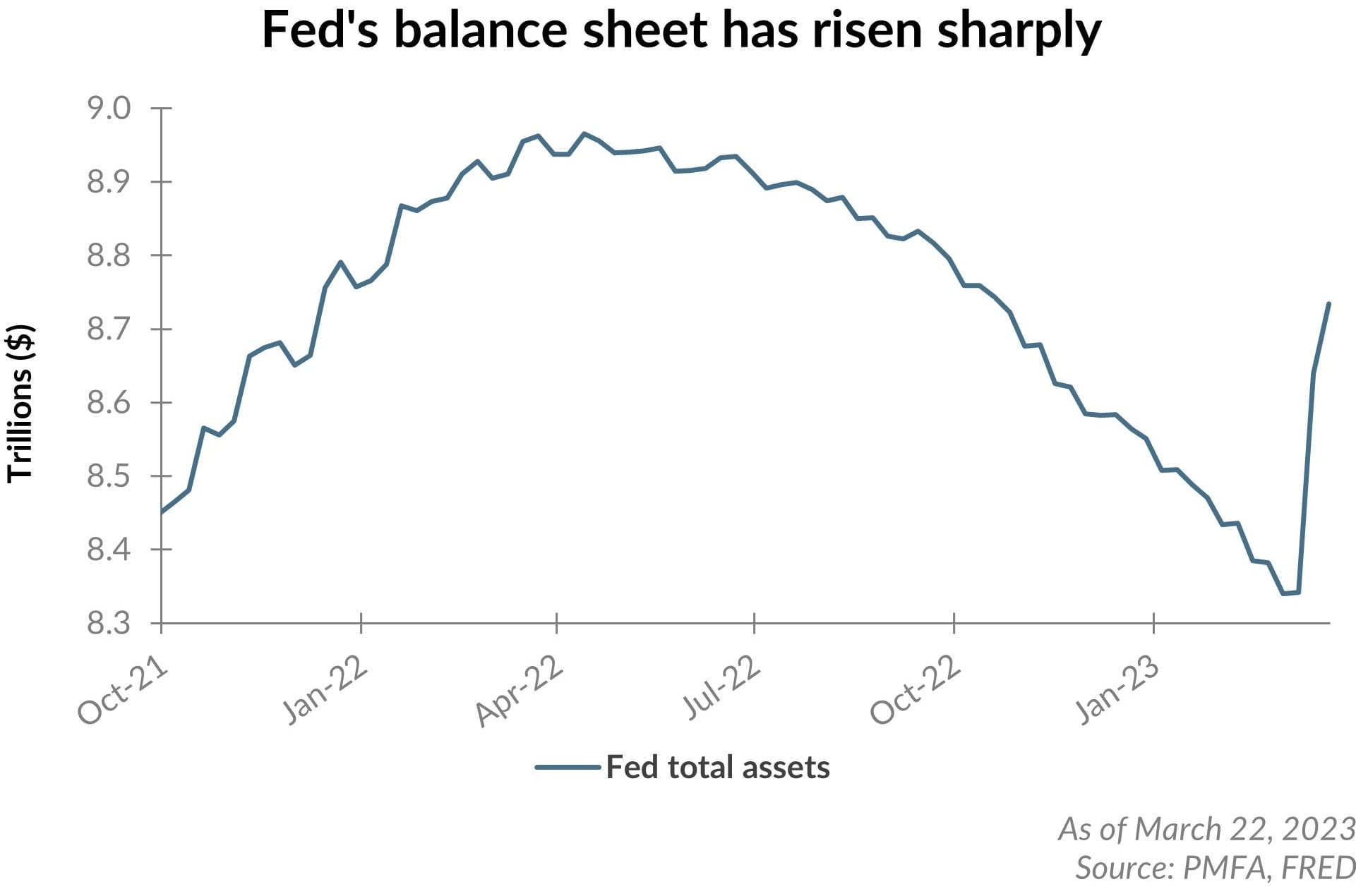 In conjunction with the Federal Reserve's rate hiking campaign, the central bank has engaged in quantitative tightening (QT) — the systematic reduction of its balance sheet — to remove liquidity from the banking system. QT may not be as apparent as higher interest rates but it's a meaningful tool used by policymakers to tighten financial conditions. As illustrated in the chart above, the Fed's balance sheet had been steadily shrinking over the past year. However, the events of the past few weeks and the Fed's associated response has at least temporarily reversed its balance sheet runoff.
As we discussed in a recent special commentary, the recent emergence of concerns related to banking system stability prompted the Fed to implement measures to assuage bank liquidity concerns, including the introduction of the "Bank Term Funding Program" (BTFP). That program allows banks to directly tap the Federal Reserve for liquidity for up to 12 months via collateralized borrowing rather than being forced to sell securities that lost value as interest rates rose in the past year. In the face of recent deposit outflows, an undisclosed number of banks have accessed the BTFP and other Fed facilities. That injection of cash into the banking system sharply increased the Fed's balance sheet assets virtually overnight.
The seeming contradiction between additional interest rate hikes and liquidity injections into the banking system illustrates the immediate challenge before the Fed. Effectively balancing its inflation-reduction mandate with fostering stability in the banking system has complicated the picture considerably. For now, the Fed is attempting to thread the policy needle to achieve both. That means ample access to liquidity to encourage stability for the banking sector, while still raising interest rates gradually to slow the flow of credit and raise the cost of borrowing.