Creating a digital permitting and licensing customer experience score card
How can you build a score card to measure the effectiveness of your permit agency's digital transformation? Follow these four steps to evaluate and improve the online experience of your customers.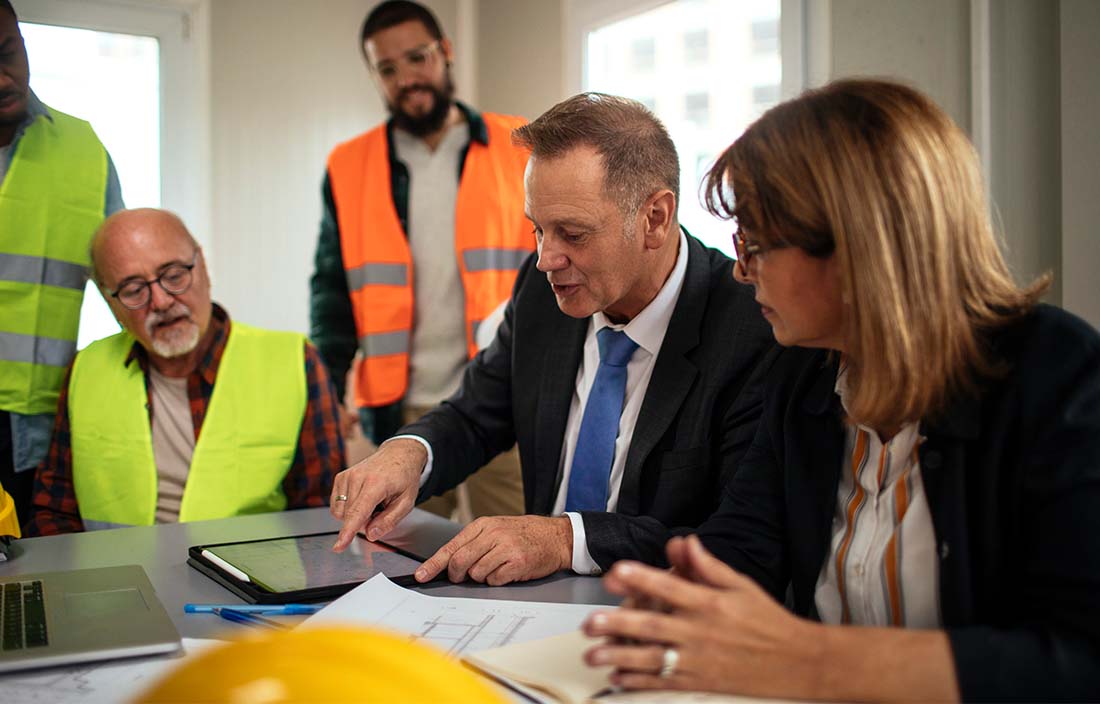 The inconvenience and costs of in-person services are becoming more and more obvious as digital services become increasingly embedded in government permitting agencies. New government funding allocations of $350 billion distributed through the American Rescue Plan Act (ARPA) include investments in permitting, licensing, and regulatory enforcement to improve service capabilities using technology and IT infrastructure. As the public appetite for digital services increases, the level of expectation for an online experience that fulfills business needs is elevated as well. With the heightened appreciation of the benefits digital services offer, many agencies are expecting to measure and prove how their digital transformations effectively serve their customers.
As the public appetite for digital services increases, the level of expectation for an online experience that fulfills business needs is elevated as well.
Nationwide, state and municipal leaders are adopting policies to create a framework for digital citizen success benchmarks that measure the effectiveness of their digital transformation. Organizations that serve these leaders have started offering support for this process through products like the National League of Cities' Digital Equity Playbook. If you're considering what your permit agency can do to assess the effectiveness of its online experience, consider creating a digital permitting and licensing customer experience score card. The score card process will help your agency build on best practices to continue transforming its digital services and improving its forward-facing business functions.
Adopting practices from the private sector, communities can use a digital permitting and licensing customer experience score card to assess the effectiveness of their citizen and business relationships.
Digital experience score cards drive change in the private sector
Private sector organizations frequently use feedback mechanisms like score cards to assess satisfaction and promote e-commerce initiatives. While public sector agencies may not need to grow market share, it's generally accepted that streamlined access to public digital resources can reduce drag that results from complicated in-person permitting processes and generate an economic boost for the community. For agencies seeking to invest in a digital transformation, the goal is to make it easier for business leaders, residents, and investors to access the agency's services anywhere and anytime. But access alone doesn't overcome the challenges applicants face when navigating their way through the process. Today's tech-savvy leaders know they need to understand and measure the end-to-end customer experience in the digital application and approval process. Any friction in the online experience may lead to a customer abandoning a permit application, applying for the wrong permit, or worse, deciding to forgo a permit altogether creating a risk to life and safety.
Today's tech-savvy leaders know they need to understand and measure the end-to-end customer experience in the digital application and approval process.
There are many ways to shape the customer experience throughout their permitting and licensing journey with your permit agency. A one-size-fits-all approach to creating a digital permitting score card will rarely be effective, as each jurisdiction has a unique combination of ordinances and regulations for building, licensing, and code enforcement. A well-designed score card should account for key considerations like an agency's mission, customer needs, capabilities, and service-level expectations.
Designing your agency's digital permitting and licensing customer experience score card
Step 1: Align your agency's mission with customer success
The responsibilities encompassed in a permit agency's mission often need to strike a balance between regulatory compliance and customer satisfaction. Achieving compliance begins with the customer's understanding of the process and their understanding of how they'll be served. Agencies recognize that customers expect consistent and predictable service at each step of their digital journey. Designing your agency's digital permitting customer experience score card should align customer success with your agency's business goals and strategies.
Ask yourself the following questions to design a tailored scorecard for your agency:
Does your organization have an executive-level champion for customer success?
How do you achieve buy-in with your organization's leadership to advance your digital strategy?
How can you support a connection between your agency's digital strategy and the advancement of its organizational goals?
Are there performance metrics identified for agency digital initiatives?
How are customer experience metrics currently used by your agency?
Key capabilities & resources:
Secure executive sponsor commitment for achieving digital experience goals.
Understand how your agency promotes advocacy for improving the customer experience.
Maintain alignment between digital customer service goals and agency strategic goals.
Share success stories with metrics demonstrating how your customers achieve their goals.
Positive digital customer experience accelerators:
Sponsor engagement exists within your agency to understand how the customer's digital experiences creates internal staff advocacy for customer success.
Leadership recognizes that the customer's digital experience is central to fulfilling key strategic goals.
Staff readily share ideas to improve the digital customer experience as they recognize their influence on shaping the process demonstrates their significant role in shaping customer success.
Customer engagement mechanisms exist for customers to participate in designing, optimizing, and promoting digital services.
Step 2: Know your customer expectations
Every permit agency needs to understand how its customers experience the permitting and licensing process. Your score card should assess the customer's online experience by measuring their interactions with the digital application and your staff at each stage of the permitting and licensing journey. It should enable you to better understand how the customer values each interaction.
Ask yourself the following questions to properly appreciate your customers' expectations:
How often are applicants able to submit their application successfully on their initial attempt?
What are the top obstacles that create friction in the customer's digital experience?
How can common pain points in the permitting process be removed?
How can your agency continuously capture feedback to which it can respond and recalibrate its digital services?
Key capabilities & resources:
Reflect on how customer success outcomes and expectations may vary based on a customer's experience and identify opportunities to improve accessibility across the board. Identify ways to serve a diverse audience of experiences, languages, abilities, and interests.
Regularly review customer-facing information to determine if it's consistent, accurate, and responsive to common questions given the context of the customer's situation.
Introduce process controls to monitor when/where bottlenecks may occur so agency resources can be reallocated responsively as circumstances change.
Recognize that a poor experience at any stage of your customer's permitting and licensing journey may discourage voluntary compliance and diminish the customer's trust in the agency. Permitting agencies often measure success in terms of end outputs, like permits issued or plans reviewed. These metrics frequently fail to reveal the friction and pitfalls the customer experienced along the way. The score card needs to measure satisfaction or frustration at each step in the process, not just the end result.
Positive digital customer experience accelerators:
Provide staff with standardized customer service training and identify backup roles/training opportunities to prevent knowledge loss.
Establish measures for the inputs, outputs, and outcomes, including the processing time for each step in the digital process, to create transparency for all permitting and licensing customers.
Increase public awareness for available training resources to promote use of new or existing digital tools and resources so success outcomes are demonstrated.
Design customer-to-staff feedback mechanisms for agency staff to regularly interact with the customers.
Step 3: Understand your agency's resources to deliver positive online experiences for customers
Today's permitting and land management agencies face various resource challenges, including funding levels that don't align with service-level expectations, vacancies in staff positions/expertise, and difficulties in recruitment and retention, among others. Agency investment in effective digital service delivery can promote staff training and development while creating greater productivity and efficiencies for those involved in the process.
Ask yourself the following questions to manage customer expectations based on available resources:
Does your staff understand each stage of the applicant's permitting journey from application submission to final occupancy/use?
Do cross-departmental staff have the means to share digital resources, access data, and manage their processes by working as a cohesive review team?
Do staff ever experience uncertainty regarding when permitting and licensing requirements apply to a customer's situation? Are these identified for possible quality reviews before engaging the customer?
Does application management, inspection scheduling, and permit/license status transparency require extensive staff effort and resource demand on your agency?
Do staff job duties include the support, delivery, or management of digital customer resources?
Key capabilities & outcomes:
Recognize resource opportunities and gaps to standardize staff role responsibilities and adjust duplicate responsibilities or redundant processes.
Invest in opportunities to improve data access, management, and decision support, including those providing visibility into applicable permitting and licensing requirements, submission completeness, status, scheduling, and inspection coordination.
Reflect on potential digital resource investments offering new capabilities for your organization to serve its customers.
Institute staffing responsibilities and training to support management of your agency's digital resources.
Positive digital customer experience accelerators:
Understanding the customer's involvement in your agency's digital transactions and knowing where the customer's feedback can shape improvement.
Elimination of nonvalue-add processes that involve "re-keying," workarounds or unnecessary action in multiple systems.
Digital process automations for high-volume, low-complexity transactions.
Clear roles and responsibilities for efficiently configuring, testing, and deploying technology changes.
Step 4: Measure your agency's success
Your agency's success depends on the satisfaction of each customer at each point in the digital application process. Understanding and measuring how the online experience you offer contributes to customer success is paramount. Your score card should evaluate if your digital transformation ultimately creates customer satisfaction. Elected officials deserve to claim credit for the use of their constituents' taxpayer dollars funding digital investments. They frequently need to counter perceptions with data-driven, customer success outcomes that can be verified.
Ask yourself what factors matter most to driving positive customer experiences:
What elements of a positive customer experience matter most to your agency's officials?
Can desired outcomes be effectively measured in terms the customer appreciates?
What obstacles prevent your agency from making changes to address its needs?
Does your agency recognize the ways a positive digital experience incentivizes business leaders and entrepreneurs to make investments in your community?
Key capabilities & outcomes:
Provide opportunities for your public leaders to interact with customers and staff to review digital services.
Establish channels to communicate performance to the customer, staff, and elected officials.
Initiate a process to identify and resolve friction throughout the customer's journey.
Create avenues for your agency to take credit for your customer success in a way promoting a culture of continuous improvement.
Positive digital customer experience accelerators:
Success metrics exist for customer service delivery, achievement of goals, and required compliance reporting.
Customer advocacy creates an atmosphere of mutual trust.
Increased economic activity and business investment in your community.
Elevated agency reputation resulting in increased compliance and collection of expected revenues.
Building a digital customer experience score card will help demonstrate your agency's commitment to customer success. If you'd like to learn more about how to get started, reach out with any questions you may have. We're happy to help.