Patient access practices: Positioning for value in ambulatory care
Improving patient access practices to maximize throughput and capacity is key to positioning for value-based care arrangements. Here are four expert strategies to consider.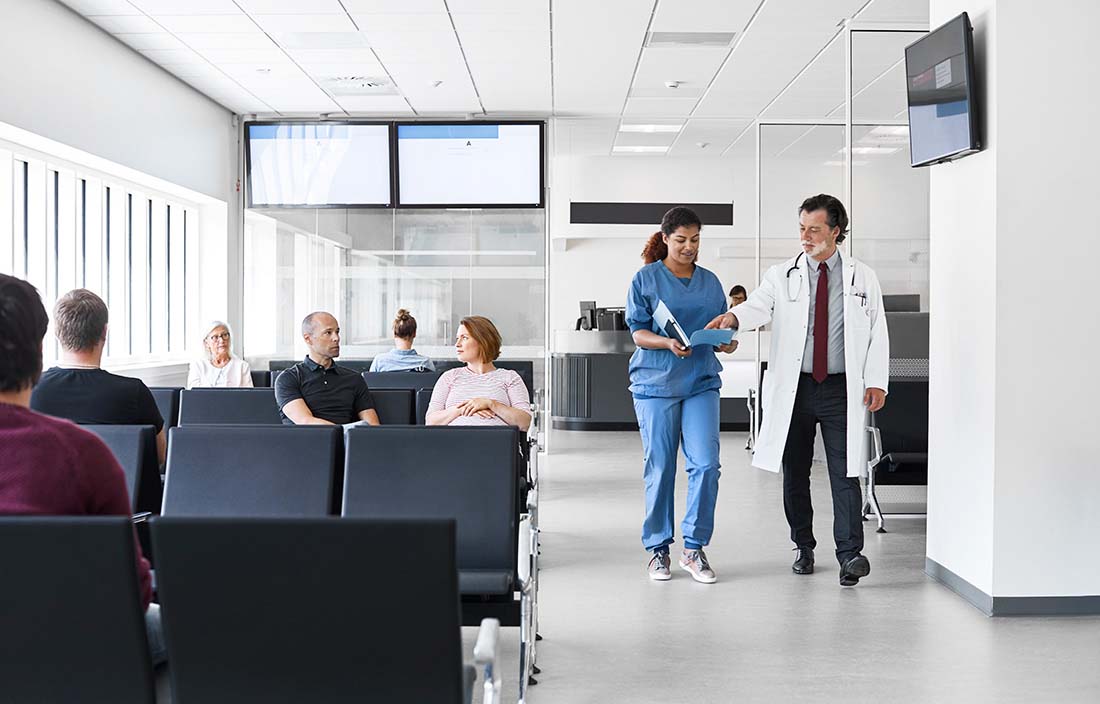 Patient access within our healthcare delivery system is a delicate balance between supply and demand. Supply is the time and resources available to care providers for provision of services, and demand is the population's need for care. Ambulatory care leaders know this balance is a tough one to hold, but today's healthcare environment with challenging labor conditions, rising costs, and regulatory shifts have made it feel unachievable.
To meet these challenges, the industry has accelerated its push toward value-based care models in the ambulatory enterprise that emphasize appropriate, safe, and coordinated care at lower cost. The success of these delivery models is predicated on efficient and effective patient access practices that support providers in maximizing patient throughput and capacity.
Efficiency begins with patient access. Understanding how to align and position your ambulatory care access operations is vital to the financial health and operational growth of your organization. Below are four things ambulatory leaders should consider to best position for a value-based world.
1.
Establish access standards through a robust review of internal data

First, evaluate your organization's available data and identify critical measures that are necessary to achieve optimal accessibility. Your goal is to establish access standards around each of those identified areas.

Setting forth standard visit types and durations for visits by department is a key access standard. When providers utilize custom appointment specifications, there's often a learning curve for scheduling staff to understand all of the individual nuances and ultimately leads to scheduling errors, administrative rework, and delays in care. Creating access standards around appointment specifications, like visit types and durations, reduces variation among providers and creates a more streamlined process for patients to get on scheduling books.

These access standards will become the foundation for managing and monitoring performance across the enterprise.
2.
Prepare to manage demand

Demand for outpatient services in healthcare has steadily increased and, according to Advisory Board, is expected to grow another 7% by 2026. This, alongside the proliferation of value-based arrangements, will force health systems to rethink their strategy around managing demand in the outpatient setting. The following are successful strategies to manage fluctuating demand:
Develop contact centers: Clinic staff should focus their time and attention on the delivery of care. Organizations that develop contact centers appropriately allocate the management of patient communication to an administrative group whose primary purpose is to achieve optimal patient access and efficient scheduling. By segmenting these administrative tasks, ambulatory leaders not only free up time for clinic staff to work top of their license, but they also create opportunity to better measure staff performance and productivity.
Optimize omnichannel strategy: Use and maximize the functionality of patient portals, texting enhancements, and other technological resources to encourage efficient communication between patients and care teams. The ability to connect with your patient population through multiple communication channels promotes patient satisfaction, minimizes the possibility of no-show and cancelled appointments, and encourages multifactor accessibility to healthcare services.
Monitor the market: Fluctuations in demand can easily create bottlenecks in access, regardless of the established foundational mitigation resources put into place (contact centers and omnichannel communication methods). To manage the potential for fluctuation, coordinate with marketing resources to monitor current and future demand for services. Implementing request-for-care website functionality provides insight into both current and future demand and allows for preparation to meet it.
3.
Evaluate capacity management standards

Managing capacity in the healthcare setting is how you manage time as a resource and is the offset to balancing fluctuating demand. High-performing organizations recognize that how they use time as a resource is the most important element of optimized patient access. Here are three key factors in managing capacity:
Template management: This includes regular evaluation and maintenance of providers' schedules to ensure that they're built to support demand. It includes setting forth clinical FTE expectations and holding staff accountable to meeting them as a primary measure of productivity.
Slot utilization: Once templates are created and a maintenance strategy determined, organizations should work to efficiently use appointment slots to prevent access delays. Waitlists, schedule blocks, and automatic releases are proven methods to avoid schedule gaps and maximize utility of electronic health records (EHR).
Online scheduling: Ambulatory leaders shouldn't overlook the value of their virtual front door. This is just as important as focusing on access to your physical one. Enhanced EHR capabilities, such as ticket scheduling, allow patients direct access to schedule care while also defining appointment criteria to ensure appropriate scheduling and avoid any further delays in care.
4.
Recognize the importance of continuous improvement

Building and maintaining a patient access strategy that ebbs and flows with both the market demand and provider supply (i.e., time and resources) is essential for long-term success. By focusing on not only managing demand and capacity but also sustaining and continuously improving efforts over time, you remain agile in a dynamic market. Below are three key components of continuous improvement in patient access:
Panel management: Regular review and maintenance of patient panels by provider removes access limitations — by encouraging thoughtful care progression planning and promoting patient engagement and autonomy in their care. A panel maintenance strategy ensures that providers are able to see the right patients at the right cadence to promote good condition management and success in value-based agreements.
Transition of care coordination: Continuity of care is more than just a buzzword in the healthcare space — it's an essential component of risk management. Continuity of care helps avoid unnecessary readmissions and promotes comprehensive disease management in a multidisciplinary team setting. Effective transition of care coordination between providers needs to be regularly evaluated due to constantly shifting clinical trends in the healthcare market.
Proactive peer reviews: The key word here being "proactive." Peer reviews don't always have to be reactive to misses in clinical care. Establishing a cadence of proactive clinical reviews encourages physicians to provide accessible, safe, and high-quality care (all measures that are evaluated under value-based arrangements).
The bottom line
Patient access is a dynamic and challenging concept that comes with a unique set of complexities that make it difficult to achieve at an optimal level. While current industry trends such as labor shortages and cost instability have created additional barriers to access, ambulatory leaders can position their organizations to succeed both in meeting today's challenges as well as in a value-based future by establishing and evaluating access standards, developing strategies to manage demand, and embracing a culture of continuous improvement.
---
See where you are at in your value-based journey with a complimentary viewpoint
---