Work-life balance has evolved. So have our supports.
Ever wish you didn't have to choose between quality time at work and quality time at home? Since work-life balance is highly personal, we've introduced a variety of supports so staff have the tools to find the right mix.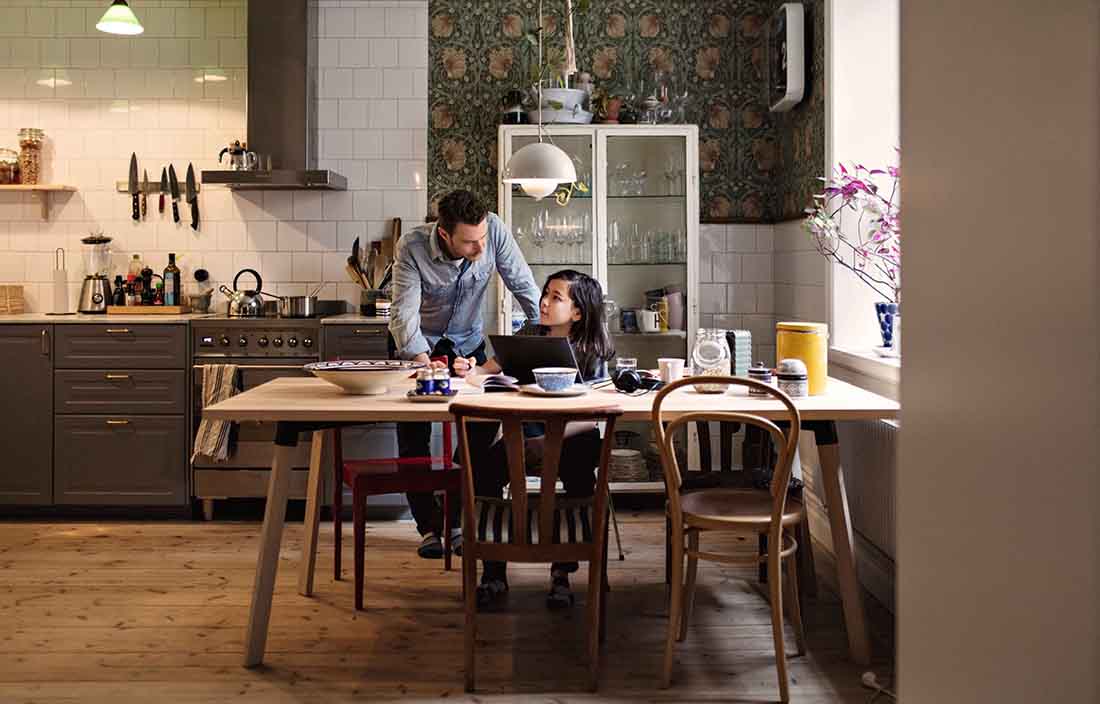 We've always known that balance is important, but since the pandemic, it's more important than ever. It means something different now; if we look at it holistically, we see that finding balance means focusing on physical, emotional, mental, and financial well-being. Here's how we support the choices that our staff make for themselves as they find balance in their lives.
Balance fund
To start, we created a "Balance Fund." This flexible benefit plan allows staff to be reimbursed for up to 50% of expenses for anything that contributes to helping them find their best balance (up to a predetermined annual amount).
For some, it's a babysitter who allows them to have a night out or a run on the treadmill. For others, it's slowing down with yoga or a meditation app. Or maybe — and this can feel like an aha moment — balance means simply having someone clean your house or deliver your groceries, so you have more time for what matters the most. These past couple of years have taught us that "balance" looks different for everyone.
Workplace for Your Day
For the past year, we've embraced a hybrid approach to work, which we call "Workplace for Your Day" (WFYD). Although we continue to prioritize in-person connections, we realize that it's no longer necessary for staff to be in the office five days a week. Instead, we ask staff to work with their teams and partners to make the right decision on how to structure their workdays.
Here's Mark, a tax principal, who's a big proponent of our WFYD model and is enjoying being back in the office:
"Our business is about relationships. We don't go to market as trusted virtual advisors behind a computer screen from our basement. We do it through relationships, and those are often best grown and nurtured in-person — whether that's with clients or colleagues. I'm not in the office every day, but I make sure my teams know when I'm there. And I make it a point to get away from my desk and off the phone to connect with others in the office informally. It might not be a billable 0.25, but it's worth far more in the long run and can often be a lot of fun!"
Balance takes support
Co-founder Frank Moran used to say, "The whole person comes to work." Since Frank's time, balance has been baked into the firm's culture with its inclusion in our foundational Statement of Principles.
The Principle of Balance goes like this: "It is our intent to provide an atmosphere where balance is sought and celebrated: balance between work and family, between work and play, between professional accomplishments and personal pursuits, between head and heart, and between individual freedom and the good of the team. Inherent in this is the understanding that balance varies for each staff member and is a lifelong, constantly changing challenge."
To uphold that "whole person" principle, we have a committee dedicated to helping staff find and keep their balance. Our WorkFlex Committee champions serve as a resource for staff and, as they become aware of changing needs or things we need to address, they bring suggestions to the management team for discussion and action.
Finally, we have programs and policies to help staff find balance as they navigate life events, from the big ones, like a wedding, to the small but no less important obligations, like a doctor's appointment.
A few of the more notable supports include:
Flexible time off (FTO). Our FTO policy allows staff to take time off when they need it most with no need to bank time or worry about PTO availability, provided work objectives continue to be met. With a traditional PTO bank, concern about available time off could distract staff from what's really important: their well-being.
Enhanced parental leave. Our leave of absence policy includes a six-week paid parental leave for all new parents, including moms, dads, and adoptive parents. This is in addition to the six to eight weeks of short-term disability benefits the firm provides to birth parents.
Alternative work arrangements. Many staff tailor their work schedules. Arrangements are based on particular circumstances, and can include telecommuting, compressed workweeks, part-time schedules, and putting in extra hours during tax season with reduced summer schedules.
Ongoing support
The definition of work-life balance continues to evolve. We recognize that finding that balance isn't always going to be easy, which is why we're proud to be a firm that emphasizes flexibility, balance, and a variety of supports to ease whatever challenges our staff face.
After all, just when you think you've achieved that perfect work-life balance — you guessed it: something changes. Each day will be different. Some days maybe you can do it all. On other days, you'll need to focus in one area or take that well-deserved break. So, be kind to yourself and try to take a longer view.