The CFO cheat sheet: Nine ways to improve effectiveness
Whether you're a CFO looking to improve your strategy or a CEO or board member wanting to coach your CFO, this nine-point guide can help.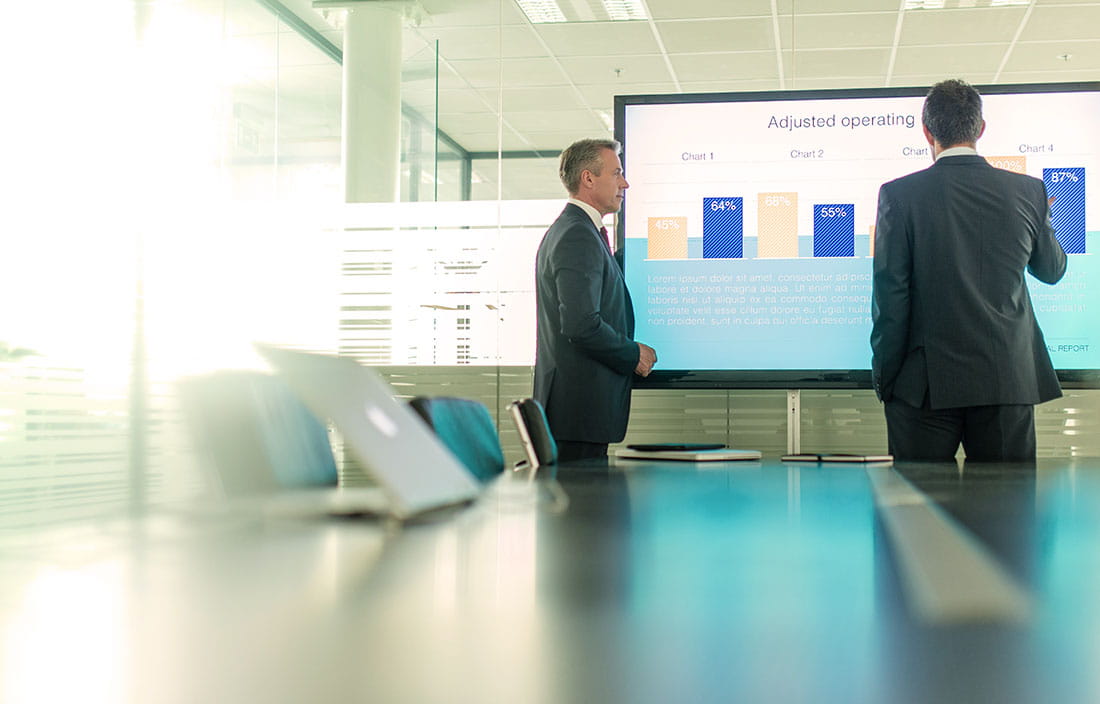 The best leaders never stop learning. In fact, constantly looking for ways to improve is a hallmark characteristic of a great leader. But where does a leader looking to improve start? How does a new CFO create a strategy for effectiveness? And how can a board or CEO offer guidance to coach a CFO to success?
Our talent and development consulting practice created a framework that CFOs and their supporters can use to guide improvement. These nine points will help you determine what's going well and what could be done better. Here are nine ways CFOs can improve effectiveness.
1. Stay active in your organization's strategy development.
A common challenge among clients we've heard about is that CFOs sometimes still act as controllers, just tracking day-to-day metrics, when the organization is looking for somebody with the financial expertise and business acumen to help guide decisions and strategy.
If you're a CFO, show your colleagues you're a strategic thinker — take part in creating short- and long-term organizational goals. It's up to you to use metrics to create useful suggestions that inform the firm's overall strategy. Don't get too comfortable just hitting goals — you were chosen as CFO because your colleagues want to hear what you have to say.
Show your colleagues you're a strategic thinker — take part in creating short- and long-term organizational goals.
If you're a CEO coaching a CFO, explain to your CFO that you value their opinion and you need their insights to be successful. Tell them you want a partnership where you serve as a sounding board to one another. Explain to them that you want them to anticipate challenges and prep the organization to address them.
2. Set the tone for accountability.
Your organization has a specific set of standards and expectations for a reason. It's not enough for a CFO to lead by example — they'll need to confidently articulate the importance of accountability to all staff regularly in order to be effective. It's important that staff understand why staying accountable for all operational metrics is meaningful, and especially how it impacts their annual bonuses, salaries, and anything else that might personally affect them.
Another side of staying accountable for CFOs is to find solutions to problems that affect the organization's ability to adhere to standards and expectations. For example, if the financial technology being used isn't working for the team, an effective CFO won't just accept this, they'll ask questions, have a voice in vetting a new tool, and demonstrate to the rest of leadership the importance of making the change.
3. Focus on operational excellence.
For staff to operate with excellence, they must know exactly what excellence means at your organization. An effective CFO will go beyond just reporting on overall metrics and articulate the behaviors that are critical at each level in the company to achieve operational excellence. Consistently communicating with a team about what's expected is the key to sustained performance.
CFOs operate at a high level, so breaking down exactly what daily behaviors are expected of their team can be difficult and takes time. However, consistent effort to give the team a sense of direction and instill autonomy — but autonomy with direction toward the right goals — is well worth the effort and the time.
4. Establish effective internal controls.
Few things slow down a finance department like accidentally failing to comply with regulatory and tax laws. A CFO should be aware of where these failures are most likely to happen and create a strategy to prevent them. To ensure compliance with regulatory and tax laws and accounting rules for financial and tax reporting, look to the COSO internal control framework. CFOs can also consider outsourcing accounting to firms like ours if internal controls are a concern.
5. Champion risk management protocols.
While larger organizations will typically have somebody specifically tasked with addressing risk, it's often the case that CFOs and legal teams will collaborate to manage risk. Either way, effective CFOs know to develop an in-depth understanding of entity-wide risks. They should also have a strategy for how the firm will handle it when risk standards are compromised.
A decent CFO will call out problems and inconsistencies, but a truly effective CFO will alert others to issues before they become full-blown problems.
Coordinating a risk-response action plan can save an organization a great deal of time and energy in the event of an emergency. If your organization doesn't have specific processes in place to mitigate risk, it's up to the CFO to develop these processes or engage outside experts to determine risk protocol.
6. Stay aware of what's happening in the field.
CFOs are expected to be aware of the challenges and obstacles that staff face on the front lines of a growing business. An effective CFO will seek out discussion with sales to make sure they know what customers are looking for and what the sales team needs to be effective. What's more, clients simply get a kick out of meeting with the CFO, so it never hurts to make time to request time or the virtual invite to sit in on a few high-priority client meetings.
Beyond understanding client needs, interacting with those in the field and staying abreast of sales team needs can help CFOs understand what's necessary for sales success and avoid looking like the person who always says "no." Knowledge of field operations allows a CFO to get a birds-eye view on the future needs of the business.
7. Use your knowledge of the organizations to anticipate problems.
A decent CFO will call out problems and inconsistencies, but a truly effective CFO will alert others to issues before they become full-blown problems. A well-chosen CFO will have years of experience under their belt and should know what problems to look out for. Even the best CFO can't predict the future, though, so they should also know how to create solutions to unforeseen problems that arise.
An effective CFO will look at the balance sheet with an opportunity mindset rather than with a limiting view. Instead of shutting down new ideas that don't seem to make financial sense, they'll offer suggestions for what the organization can do that will achieve a similar result, but still align with the organization's financial strategy.
8. Package financial information in an accessible manner.
Somebody with years of technical financial experience is going to think about matters of the balance sheet much differently than someone who doesn't, even if those people are intelligent and advanced in their career — an organization is an interdisciplinary audience. To be effective, a CFO needs to be able to communicate complicated financial information in a way that their colleagues can understand and demonstrate what the information implies. For example, saying "we were flat in March" doesn't tell the story — effective communicators will explain what happened, why, and what that means for the audience.
If staff understand the reasoning and objectives behind the firm's long-term strategy, they'll have an easier time connecting to the larger mission.
Coach your CFO to use financial information create a vivid image of expectations and outcomes. Encourage using visual elements to explain information and tell the story behind the numbers in a way that motivates instead of confuses and intimidates.
9. Use analytics and historical data to educate the company.
People at your organization will have varying tenure, so without some background knowledge of past strategy and performance, reports on the organization's current status may lack context. If staff understand the reasoning and objectives behind the long-term strategy, they'll have an easier time connecting to the larger mission of the organization and work with greater purpose.
CFOs often have access to a great deal of information, but rarely make the time to utilize it and formulate helpful insights that can support the business. An effective CFO will use their platform to tell a story that helps guide the interest and perspectives of the employees.
Where should I start?
If you're coaching a CFO, or you're a CFO doing a little self-coaching, don't try to do everything at once. First, start by reviewing where leadership strengths and opportunities lie. Identify just one or two developmental opportunities to start with and create a plan to develop the correlating skills. Then, set up opportunities to test the skills out once they've learned them. It also never hurts to get feedback from other team members, so consider identifying an internal support person to help the CFO improve their effectiveness, and maybe even survey colleagues to track and record progress.
Developing CFO leadership skills can be challenging and time-consuming, but their success will drive the success of the firm. Developing staff at every level is something every firm must practice if they hope to grow and thrive.
Need help? We're here to guide you. Contact our talent and organizational team to see how we can help you develop your staff.