Do valuations make a case for small-cap value stocks?
The outlook for small-cap value stocks looks increasingly attractive, but investors should exercise patience to reap the reward.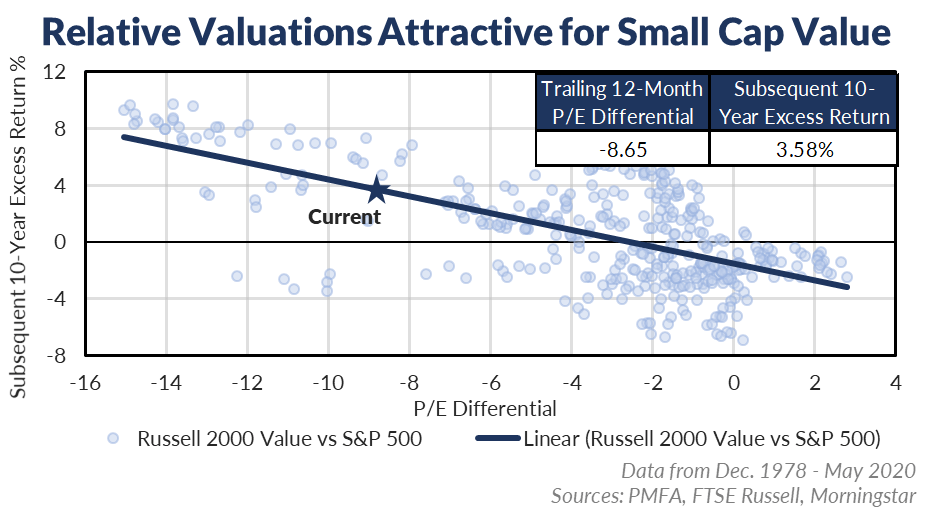 Across equity markets, valuations paint a divergent picture. Within the U.S. market, large-cap stocks look comparatively expensive on a price/earnings basis, while small-cap value stocks look increasingly cheap compared to their long-term historical averages. In the near term, valuations can remain quite stretched and could become even more so before normalizing. Over longer periods though, the historical evidence is clear: price matters. Over longer periods, investing in a stock, a sector, or a market when they're out of favor rather than those where prices are stretched generally leads to superior returns.
Large-cap stocks have outperformed smaller companies for several years; that dynamic has continued through the selloff and subsequent rebound this year. The result is a valuation discrepancy that has become quite pronounced, with small-cap value stocks in particular looking increasingly attractively priced compared to blue-chip growth stocks. Since 1978, when relative valuations have reached these levels, the Russell 2000 Value Index (small-cap value stocks) has outperformed the S&P 500 by an average of about 3.5% annually over the subsequent decade.
A word of caution: Valuations alone aren't good timing indicators, and prices could become even more stretched. For long-term investors though, the opportunity is clear.