Weekly jobless claims rise for the first time since early March
Jobless claims rose last week as the surge in COVID-19 cases across the country took a toll, reminding us again that the economy will be vulnerable until there is a viable solution to a public health crisis that continues to grow.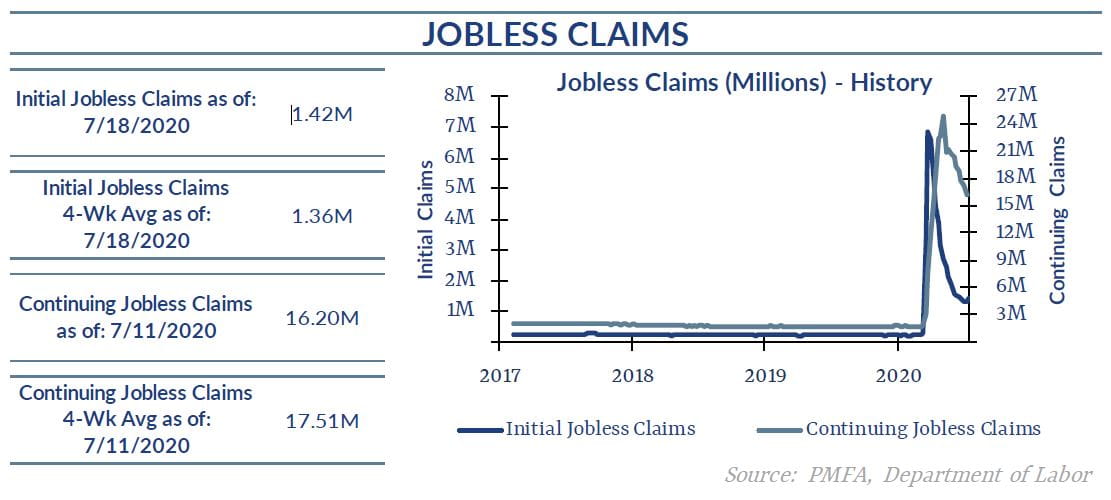 After several months of consecutive weekly declines, jobless claims rose by over 100,000 last week to top 1.4 million, exceeding expectations for 1.3 million new claims. Continuing claims, which lag by a week and didn't reflect that increase, declined by over 1.1 million to about 16.2 million. Including those receiving benefits under the supplemental programs lifts the total to nearly 32 million.
While first-time jobless claims have declined dramatically from the record levels seen in March and April, they remain exceptionally high by historical standards.
Unemployment claims have been at record levels since mid-March, when aggressive safety measures taken to combat the spread of COVID-19 resulted in the shutdown of much of the economy, causing unemployment to skyrocket. However, the labor market has been showing signs of a comeback over the past couple of months, with initial unemployment claims falling rapidly and unemployment dropping to approximately 11%.
The recovery in the labor market hit a snag in recent weeks, as the pace of decline in new unemployment insurance claims stalled at well above 1 million per week. Over the past couple of weeks, a few major employers across a range of industries have announced significant layoffs. The renewed threat posed by COVID-19 was the culprit, slowing the pace of hiring and leading to additional layoffs across the country. This week's outright increase provides further evidence of the vulnerability of the jobs market and the broad economy to a reversal until the spread of the virus is brought under control. That factor alone keeps the economy and the jobs market on thin ice.
The surprising strength of the nascent recovery had fueled optimism about the near-term outlook, although it was clear that the bounce off the bottom would slow over time. Unfortunately, the significant surge in new COVID-19 cases in recent weeks has been the catalyst for that — a punch to the gut for an economy still trying to get back on its feet after being slammed hard in March. The sharp slowdown in progress on the jobs front followed by an outright increase in first-time jobless claims last week provides a warning that the recovery is fragile and still subject to the same risk that disrupted the expansion earlier this year.
Media mention:
Our experts were recently quoted on this topic in the following publication: