Five tech trends to watch
As organizations gear up for post-pandemic growth, CIOs are turning to technologies that drive agility, efficiency, and speed throughout the business. Here's a look at five trends that are shaping leaders' digital agendas.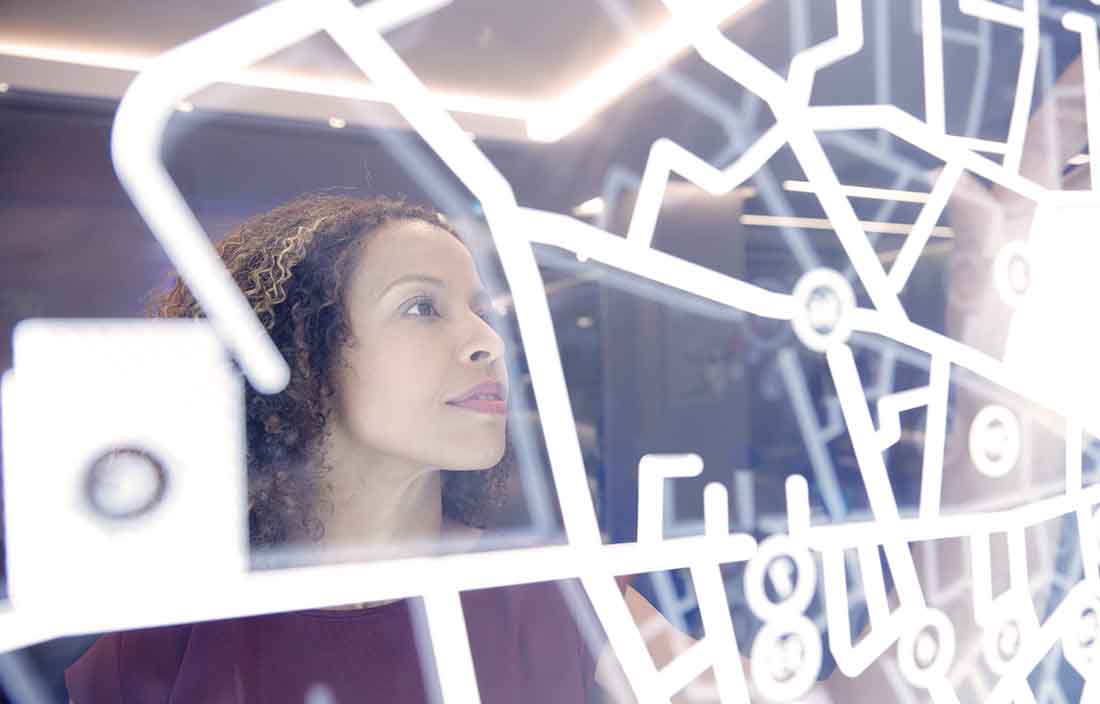 There's no question that CIOs are tapping into nascent technologies to help them chart a new path to innovation and growth. Forty-eight percent of CIOs in the 2022 Gartner CIO and Technology Executive Survey said they have already deployed artificial intelligence (AI) and machine learning (ML) technologies or plan to do so within the next 12 months. The interrelated nature of these technologies is spurring growth in each: the speed and scalability of cloud technology is enabling rapid AI innovation, while AI and ML underpin rapid advances in robotic process automation (RPA) and the Internet of Things (IoT).
Watching these trends unfold from the sidelines is no longer a safe option. Gartner predicts that by 2025, a full 70% of IT infrastructure and operations leaders who ignore innovation will be marginalized to legacy system support only. 1Strategic IT leaders are opting for innovation over obsolescence. They're choosing to lead toward a higher vision rather than manage to a lower baseline and are stepping into elevated roles that have the power to shape and accelerate their organizations' strategy via technological progress. As they do so, they're leveraging five technology trends that we expect to drive value.
Strategic IT leaders are opting for innovation over obsolescence.
AI and ML are unlocking post-COVID-19 growth
There's nothing artificial about the value AI can drive as organizations start leaning into post-pandemic growth. Open-minded digital leaders are already exploring new ways of collecting and using data to optimize business performance on every level, pursuing AI-powered solutions to address pain points that became sharper during the pandemic. Gartner's latest research echoes the conversations we're having with forward-thinking clients. Nearly half (48%) of CIOs in the 2022 Gartner CIO and Technology Executive Survey say they have deployed AI and ML technologies or plan to do so within the next 12 months, spurring a 21% year-over-year increase in global AI software purchases.
We anticipate those investments will focus on incremental growth — rather than wholesale transformation — within most organizations. Smart digital leaders will pursue an AI strategy that tightly aligns with business strategy. Their AI investments will be geared toward tackling specific operating challenges, such as improving the efficiency of back-office processes, enhancing digital self-service options for customers, or aggregating and analyzing market data so leaders can pinpoint new growth opportunities. These modest but meaningful efforts can prove the value of AI and pave the way for additional use cases.
Smart digital leaders will pursue an AI strategy that tightly aligns with business strategy.
IoT is enabling operational agility
The cost of IoT devices has fallen steadily even as their power and capabilities have increased. These trends — along with the pandemic push toward remote work and digitization — pressured some midmarket organizations to implement IoT in a knee-jerk manner, only to later abandon the effort when it failed to drive smarter business decisions.
This year presents an opportunity for leaders to apply intelligent design when introducing new smart products into their post-pandemic operations. By approaching IoT with a clearly defined business goal — for example, minimizing machinery down-time or optimizing inventory levels — CIOs can better leverage connected devices to enable real-time decisions, including adjusting resource plans and production forecasts on the fly. Fresh insights into the causes of machine failure can lead to faster identification of patterns and ultimately allow for predictive maintenance and proactive reduction of downtime. These tangible rewards — or similar measurable outcomes — should be the goal of any IoT implementation. In many cases, external partners can help organizations bring their smart device strategies to life more quickly by providing proven processes and employee training.
RPA is helping companies close the talent gap
The current landscape is marked by talent scarcity, rising labor costs, and severe skill mismatches. RPA presents a two-pronged solution: automate what technology can do better and faster than humans, and let employees apply context and creativity to drive business value. This year will bring new opportunities to optimize both tech and talent. Innovators will not only fill workforce gaps by automating rote tasks with smart workflows and robotics; they'll also free up human talent to focus on and develop skills responding to the data and creating actionable information.
Applying AI to RPA will enhance automation from merely completing forms to understanding them; from simply extracting structured data to mining unstructured data; and from replacing "busywork" to creating a more powerful human workforce equipped with the knowledge to make faster, smarter decisions. This empowerment has been proven to play a role in employee retention. For example, AI can push RPA beyond simply automating the billing process to analyzing hundreds of variables to pinpoint why a key client is becoming less profitable, and then recommending changes to pricing, contract terms, or service scope to help human teams address the problem successfully.
RPA can play a role in attracting talent as well — particularly Millennials and Gen Z, who place a high priority on learning new skills. Providing opportunities for employees to work with the latest digital tools helps to keep pace with their expectations for more advanced, demanding roles. At the same time, creating space for talent to engage in meaningful analysis and insight can give organizations an edge in a hypercompetitive recruiting environment.
---
RPA uses software robots to eliminate mundane and repetitive tasks from your business processes so staff can deliver real value.
---
Cloud technology is elevating IT from a cost center to a value driver
CEOs' demands for agility and speed reached a fever pitch during the pandemic, and cloud technology is a common element of the architecture necessary to meet such dynamic needs. As organizations prepare for perpetual pivots, Gartner forecasts that spending on public cloud services (provided by third parties such as AWS, Google, and Microsoft) will increase 22% in 2022, and will exceed 45% of all enterprise IT spending by 2026. These investments aren't just "plug and play;" they will need to be guided by CIOs who can align business goals with the right cloud strategy and set a realistic roadmap for executing it. Choices abound, each with significant implications. Tech leaders must come to the table ready to understand and sometimes temper expectations, as well as articulate the risks and rewards of various cloud alternatives, including private, public, hybrid, and multicloud scenarios.
As organizations move to the cloud, it's not only the role of technology but also the composition of IT teams that may need to change. IT staff often need to be reskilled as their roles shift from building patches and upgrades for legacy systems to brokering business advantages from the cloud. The disruption goes beyond simple retraining. Inherent in the move to cloud is the need to navigate a new cybersecurity landscape; develop new governance models; optimize processes and workloads before migration; and identify and connect the business with the optimal cloud-powered subscription services to enable IoT, AI, and other capabilities necessary to unlock growth. It's a shift in technology and in the role of IT, from a corporate cost center to a creator of value for the organization.
It's a shift in technology and in the role of IT, from a corporate cost center to a creator of value for the organization.
Blockchain is gaining interest beyond bitcoin
While we don't expect blockchain to drive widespread transformation, we do expect new use cases will continue to be tested in both the public and private sectors, setting the stage for future adoption. Forward-thinking organizations have already begun to explore the unique security, transparency, and tracking capabilities enabled by blockchain technologies. In many instances, emerging countries, which don't have complex legacy systems to replace, are threatening to leapfrog the United States in creative applications of blockchain capabilities. Dubai aims to become the world's first blockchain-powered government, and has identified more than 20 use cases, ranging from visa applications and digital passport checks to registering for university. Estonia is focusing on applications of blockchain technology to voting, education, healthcare, and banking use cases.
Progress in the United States is somewhat hampered by tighter regulation, but there are examples of progress. In New York, blockchain is enabling individuals to provide digital credentials for COVID-19 vaccination while preserving the privacy of their medical records. In Colorado and Illinois, decentralized ledgers are able to verify and issue property deeds instantaneously. Other states are exploring blockchain for driver's license data, voter registration, and more via public-private sector partnerships that accelerate innovation. Private sector examples of blockchain innovation include pharmaceutical firms seeking reliable end-to-end tracking of vaccines and other drugs through the supply chain, and airlines using blockchain to track parts and verify aircraft maintenance records. We expect blockchain technologies to continue to gain traction as these and similar use cases create value and move the technology further along the adoption curve.
States are exploring blockchain for driver's license data, voter registration, and more via public-private sector partnerships that accelerate innovation.
We've only just begun
The last two years brought intense disruption and immense opportunity. The market has accelerated its understanding, investment in, and adoption of digital technologies. As leaders continue to embrace these technologies, they will harness their transformative power for growth and proactively shape the tech-powered organizations of the future.
---
Our transformation experts help you create a digital strategy that delivers value and dividends.
---