What does a tightening in credit conditions mean for the economy?
Tighter credit conditions typically lead to a slowdown in loan growth — a frequent precursor to an economic slowdown, if not a more pronounced downturn.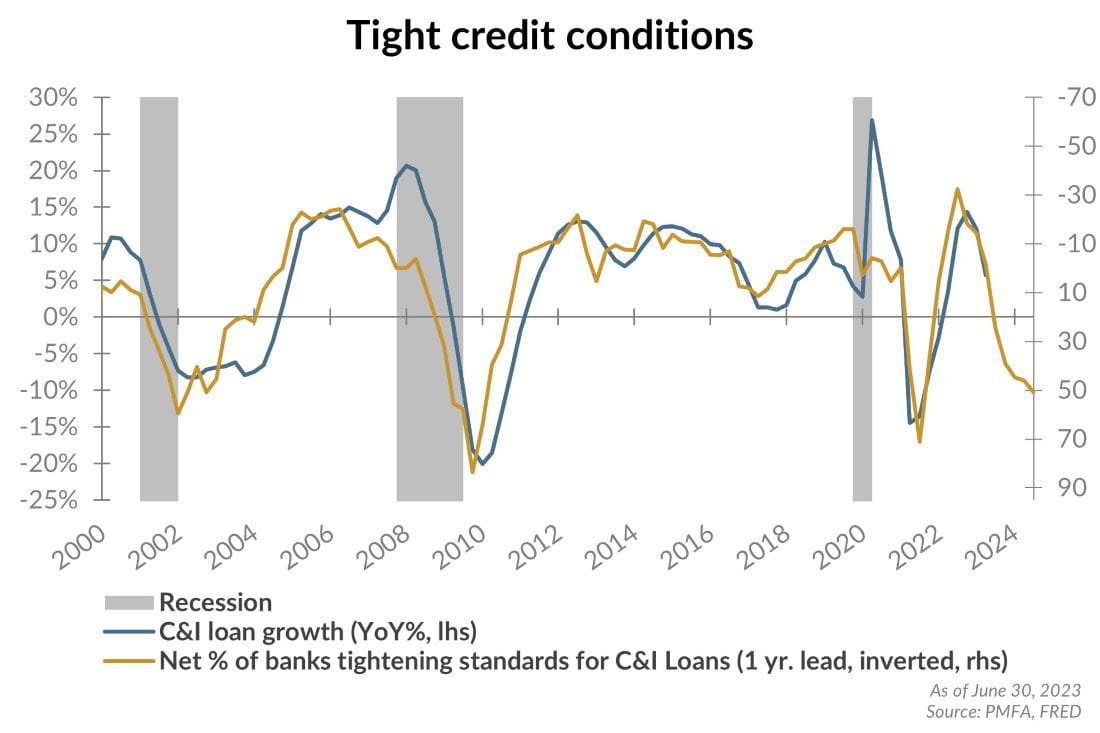 For many entrepreneurs and executives, the ability to borrow as a source of operating capital or finance investments is a key underpinning to both ongoing operations and growth. That can take the form of short-term credit, such as an operating line, or long-term debt used to finance investments in facilities, equipment, M&A opportunities, and more. The use of leverage is often required for companies to scale their operations, but its use only works if the investments made can produce cash flows that exceed the cost to service the debt assumed to fund it. As interest rates rise, the cost of doing business — and the hurdle rate for any investment — also increases.
When the economic outlook becomes more uncertain, banks tend to tighten lending standards. As shown in the chart above, banks have now tightened lending standards for the past several quarters. What does this mean for potential borrowers? Tightening can take various forms, but it most frequently requires borrowers to pay a higher interest rate on the loan, shorten a loan's maturity, or abide by stricter covenants. It may also result in a reduction in the amount of credit available, leaving a potential gap between borrower needs and lender appetite to meet those needs. As credit conditions tighten, a combination of slower credit demand, constrained capacity to lend, and higher interest rates all contribute to slower loan growth.
The bottom line? That slippage has become apparent in the current cycle, and year-over-year loan growth in percentage terms appears set to turn negative. This may be both a symptom of and a contributor to slower economic growth ahead – a dynamic that has historically also led to wider credit spreads, in turn reflecting, and contributing to, a risk-off mood for investors.