What explains the disparity in performance across global equities this year?
Although the S&P 500 index has posted a robust gain this year, that performance has been driven by just a handful of names.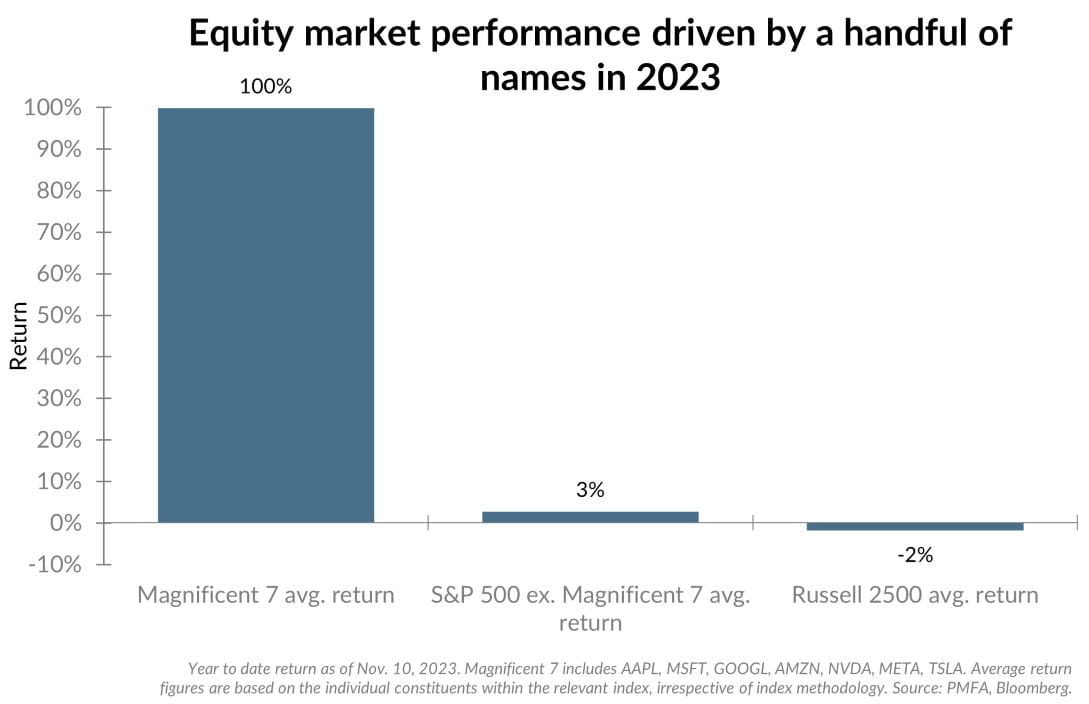 Financial media has recently coined a new phrase, "The Magnificent 7," in reference to the handful of stocks that have dominated stock market performance this year. They're familiar names: Apple, Microsoft, Google, Amazon, Nvidia, Meta, and Tesla that have soared to an average year-to-date return of 100% through November 10. Over that same period, the remaining S&P 500 index constituents have posted a comparatively limited average return of about 3%. Beyond large caps, the average small- and mid-cap stock, as measured by the Russell 2500 index, has been modestly negative this year.
Why does this matter? While the performance of the S&P 500 index would indicate that this has been a strong year for equity markets (up 15.0% through November 10), under the surface the reality for most stocks has been very different. The combination of the significant concentration of those few names in the S&P 500 index (representing nearly one-third) and their massive outperformance illustrated above masks that fact. For an active manager to keep pace in this environment, holding an even larger portfolio concentration in those few names would have been necessary to outperform the index, requiring a degree of portfolio risk that few could or would assume. It's created an environment in which concentration — not diversification — has been rewarded.
This doesn't mean that diversification is broken. By definition, a diversified portfolio will have relative winners and losers every year. Moreover, just as trees don't grow to the sky, one year's laggards may be next year's leaders. In 2022, these same seven names lost an average of nearly half of their value, significantly trailing the average decline of 8% for the other S&P 500 constituents. The message? Stay diversified.