Why should I invest in anything beyond U.S. large-cap stocks?
Big-cap tech-heavy indexes like the S&P 500 and Nasdaq 100 have led equity markets this year. That's unlikely to persist indefinitely.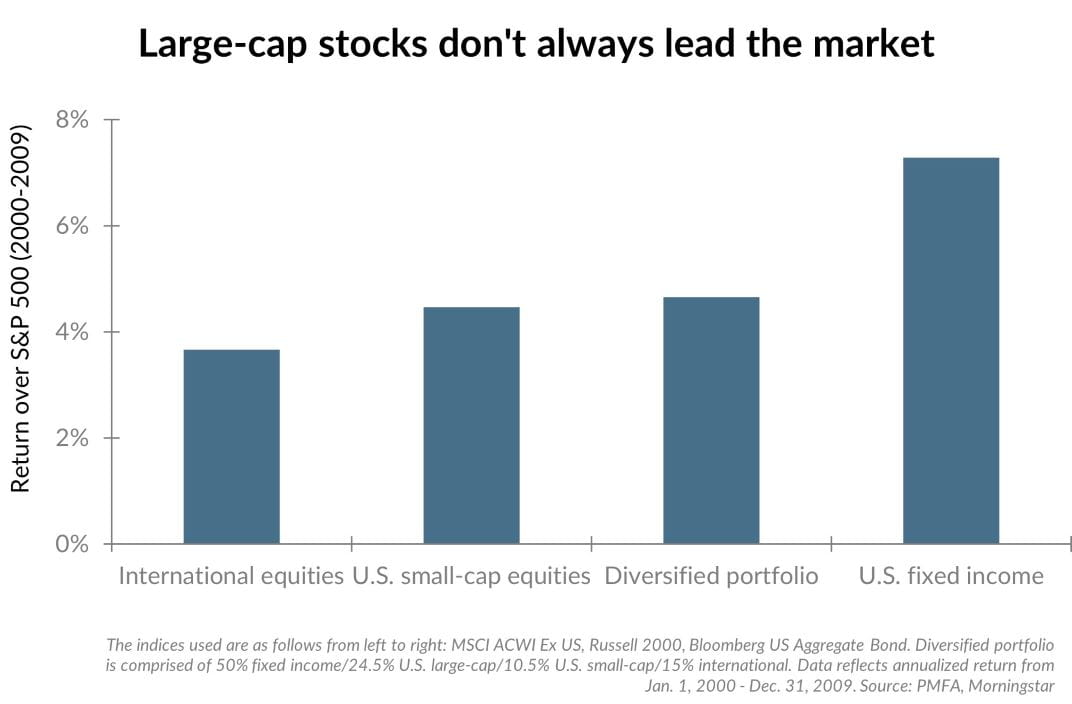 U.S. large-cap stocks, as measured by the S&P 500, has been one of the top performing asset classes for much of the last decade. It's a theme that's continued to play out this year, although market breadth has been exceptionally narrow, as discussed in our accompanying piece. Because of this dynamic, diversified equity portfolios have broadly lagged the S&P 500 this year. So why should investors remain diversified rather than investing solely in an S&P 500 index fund?
The chart above illustrates that point, looking back to the decade that followed the last period of S&P 500 dominance. In the decade beginning in January of 2000, domestic large-cap stocks underperformed almost all other major asset classes, including international equities and small-cap stocks and even core taxable fixed income. Over that 10-year period, a diversified portfolio of 50% bonds and 50% diversified global equities outpaced the U.S. large-cap market by an average of nearly 5% per year, a sharp contrast from the period in the late 1990s when the technology-led S&P 500 dominated.
Why does this matter? While large-cap stocks have led the pack in recent years, investors shouldn't abandon a broadly diversified approach to building a portfolio. No single asset class, sector, style, or stock will remain dominant indefinitely. Maintaining diversified exposure across a variety of asset classes not only helps to reduce portfolio volatility, but it allows investors to benefit from exposure to the best performing asset classes, even as specific leaders rotate in and out of favor over the course of time.