Auto supplier and OEM relationships: Insights from the 2023 WRI® Study
This year, OEMs and suppliers fought to keep plants and service bays running amid inflation and supply chain disruption, while investing heavily in electrification. Learn what else we found and how you can use it to help OEM-supplier relationships thrive.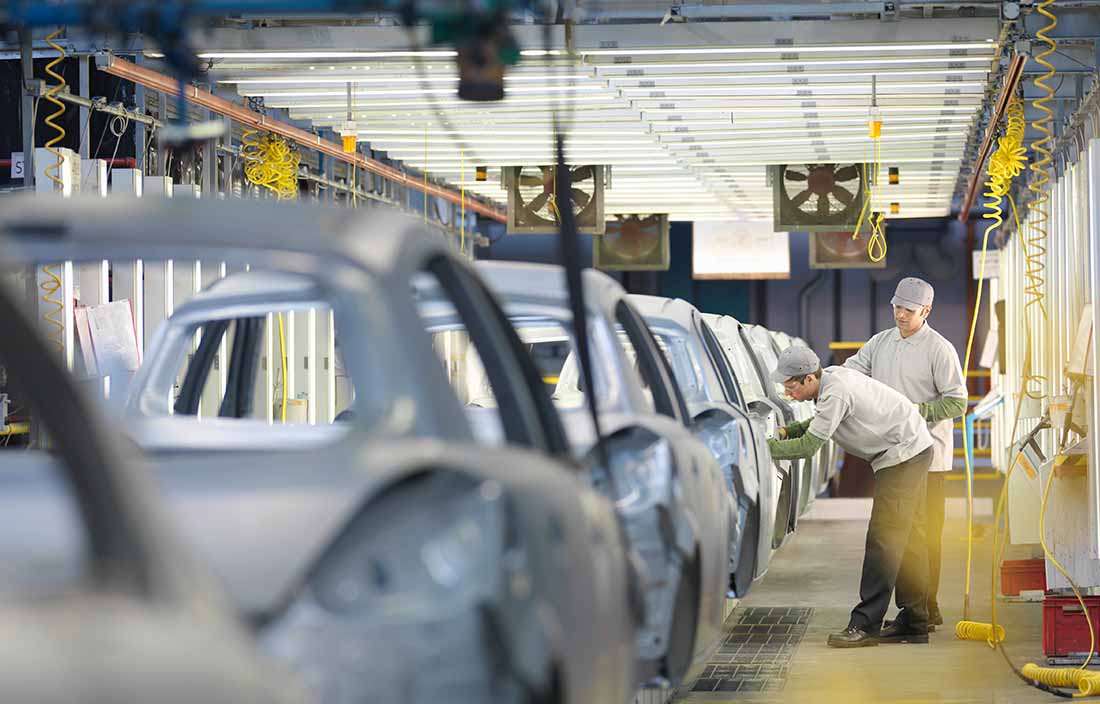 As purchasing's mission expands beyond price, quality, and delivery, supplier relationships become critical in securing the nonprice expectations that suppliers selectively offer to their best individual customers. These nonprice benefits include operational flexibility through volatile production schedules, launch support for new vehicles and technologies, risk mitigation enabling new business models and sourcing requirements, and product differentiation offering unique features.
The Plante Moran 2023 Working Relations Index® (WRI®) is a comprehensive survey methodology providing the industry with a quantitative measure of working relations between suppliers and OEMs. The survey measures the suppliers' perception of these key relationship attributes:
Trust
Communication
Assistance programs
Hindrance and friction
Mutual profit opportunity
The results are based on the opinions of over 700 executives from 459 suppliers, 69 of which are in the top 100 North American suppliers by revenue. Survey results deliver actionable data companies can use to reduce costs and time spent on commercial relationships to allow more time to solve unanticipated challenges and support bringing new products to market. Now an industry standard, the Plante Moran survey documents how OEMs and suppliers view the state of their working relationships in the face of significant disruption and transition in the auto industry.
Why supplier relations matter
The WRI® Study found that in the past year, the tension between OEMs and suppliers increased beyond the ongoing supply chain shortages and production volatility as the industry grappled with unanticipated cost inflation for material, labor, energy, and more. In addition, OEM transition plans to electric vehicles became fleshed out, and requests for supplier investment became tangible. The tension will only worsen if the issues aren't resolved. Yet, GM, Nissan, and Stellantis showed that concerted efforts could improve relationships and reduce business costs.
With market uncertainty increasing, manufacturers depend on strong supplier relations to provide operational flexibility, engineering and manufacturing launch support, business risk mitigation, and differentiating product features. These nonprice attributes enhance the value of the goods and services customers offer. Manufacturers with the best supplier relations can gain a competitive advantage by the following:
Reducing the time to close issues such as part price and cost recovery negotiations.
Optimizing production schedules for profitability through supply chain disruptions.
Allocating with suppliers required investment and risks entering new electric vehicle markets.
Bottom line, supplier relationships directly impact customers' and suppliers' competitiveness. Read on to see several key findings from the 2023 Plante Moran WRI® Study.
2023 Plante Moran WRI® industry results
The survey highlights several critical issues OEMs and suppliers need to address to succeed in this period of disruption and transition:
Additional human and technology resources are needed at the customer-supplier interface to address short-term transactional duties and longer-term EV transitional leadership, as well as to counter the personnel churn that has stretched OEM and suppliers.
Trust needs to be built between the OEMs and their direct suppliers before OEMs can request accurate and timely information from suppliers further downstream in the value chain.
OEM-purchasing organizations need strong internal relationships with their own engineering, manufacturing, finance, and other functions to manage and deliver on EV product cycle plans effectively.
Both OEMs and suppliers need a crisis management mentality that pulls cross-functional teams together to create solutions for continuous industry disruptions.
Suppliers need clear information regarding the transition path to electrification to counter the short-term costs of unanticipated inflation and production schedule volatility they're absorbing.
2023 Plante Moran WRI® company-level results
Figure 1 illustrates the WRI® trend for the six vehicle manufacturers. The difference between OEMs is much more significant today than from 2014 to 2016. That's because the continuous chain disruptions facing today's industry show the differences in the capabilities and capacities of the OEM-purchasing organizations. They're being tested. However, they all can improve. We would summarize the supplier relationships at the company level this way:
Toyota — its momentum is slowing across all WRI® categories
Honda — its performance is generally good; however, inconsistent
GM — its improvements will be tested by reorganization, EV transition, and industry pressures
Ford — its ability to communicate its EV product development plan and process will solidify relationships
Nissan — its linkage of purchasing and corporate strategy supports its momentum
Stellantis — its continued success is dependent on corporate policies and practices supporting the buyers

Figure 1.
Applying WRI® Study results improve customer-supplier working relations
While the survey and this article focus on the automotive industry, the WRI methodology is applicable across all manufacturers and service providers to improve supplier relationships.
The WRI methodology is applicable across all manufacturers and service providers to improve supplier relationships.
The basic WRI® questionnaire is broken into five main components: trust, customer communication, customer help, customer hindrance, and mutual profit opportunity. The supplier relations flywheel (Figure Two) is created across all categories. The development of solid supplier relations follows the same analogy: strong supplier relations, as indicated by the WRI®, rest on the day-in and day-out foundational activities and characteristics of a customer's buyers, and the corporate business characteristics that support the buyers.
No company excels simultaneously, year in and year out, in every WRI® component. The Supplier Relations Momentum Flywheel illustrates how companies should look toward incremental momentum to ensure they're improving their overall supplier relationships.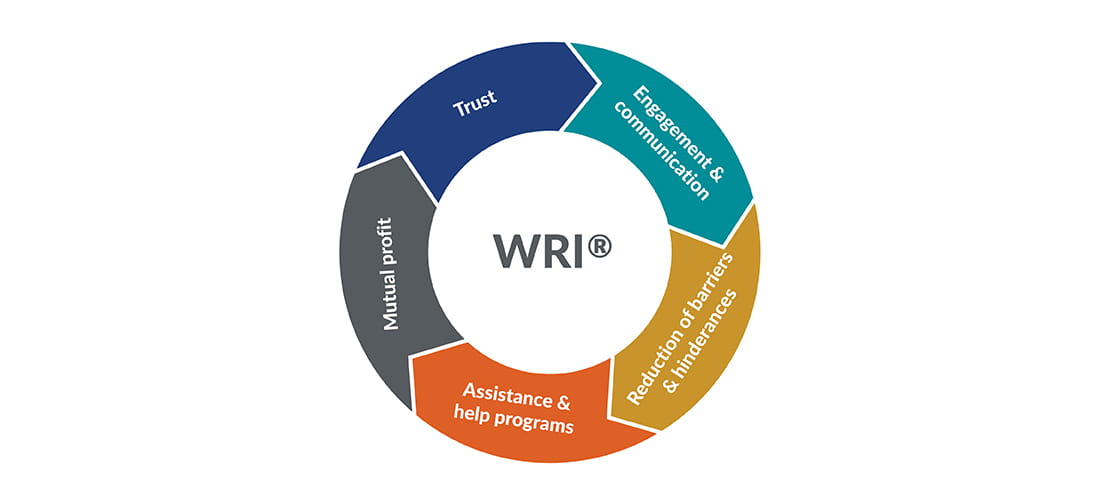 Figure 2.
About our WRI® Study
These are only a slice of the insights in the 2023 Plante Moran WRI® Study. The survey methodology and the responses of the 715 executives from 459 suppliers depict the state of OEM-supplier commercial relationships. Our WRI® methodology draws on qualitative observations and analysis of large data sets to prioritize the actions customers and suppliers may take to reduce business costs.
To learn more about the annual Plante Moran WRI® Study, how to apply findings in your organization, or to participate, contact Dave Andrea.
---
Are you ready for the future of mobility? It's time to rethink your business model and adopt new strategies to compete in tomorrow's electrified automotive market.
---