Life on Track: A unique Plante Moran program
Plante Moran Track is a multiyear leadership and internship program designed for racially diverse freshman and sophomores. With this program, we're committed to growing future firm leaders via exposure to firm services and skill-building opportunities.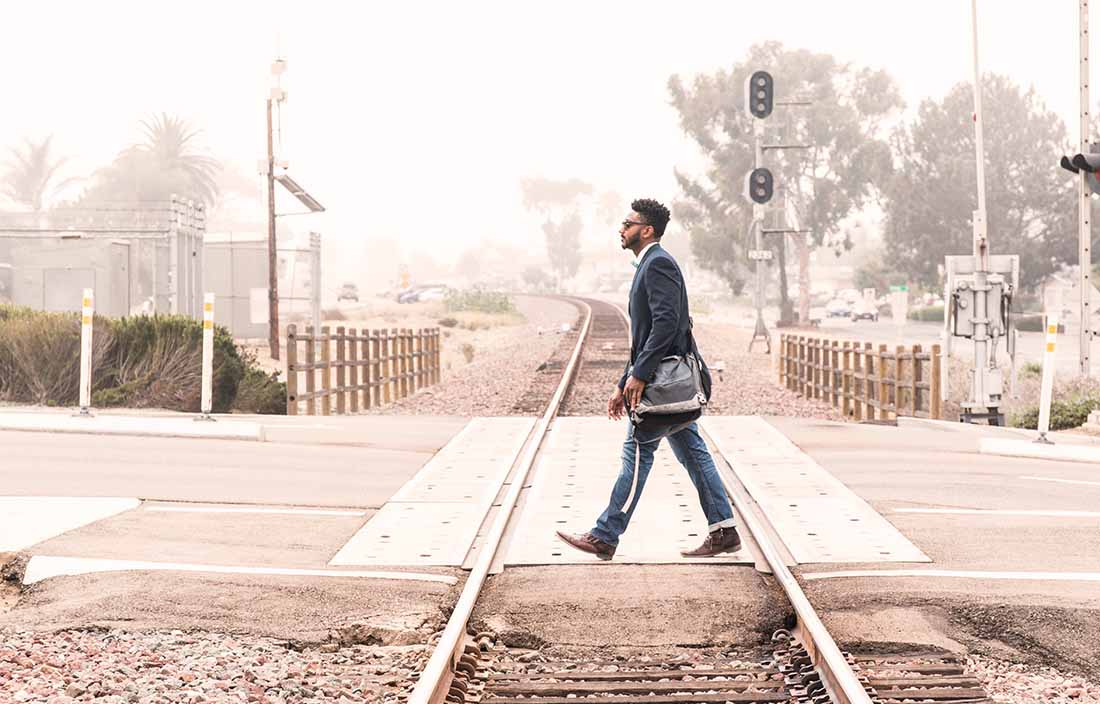 Years ago, students had to complete at least three accounting classes before they could experience Plante Moran as an intern. We thought it made sense — make sure students had a few basics under their belts and then they could come to us for some real-world experience. So, when two Michigan State University freshmen expressed their disappointment in this requirement, we stayed the course.
But then we got to thinking — across the nearly 50 campuses in 10 states at which we recruit, there was a variety of racially diverse students we were likely losing to other firms with earlier internship programs. So, we developed an engagement and learning program focused on freshmen and sophomores who are racially diverse business students. We called it Track.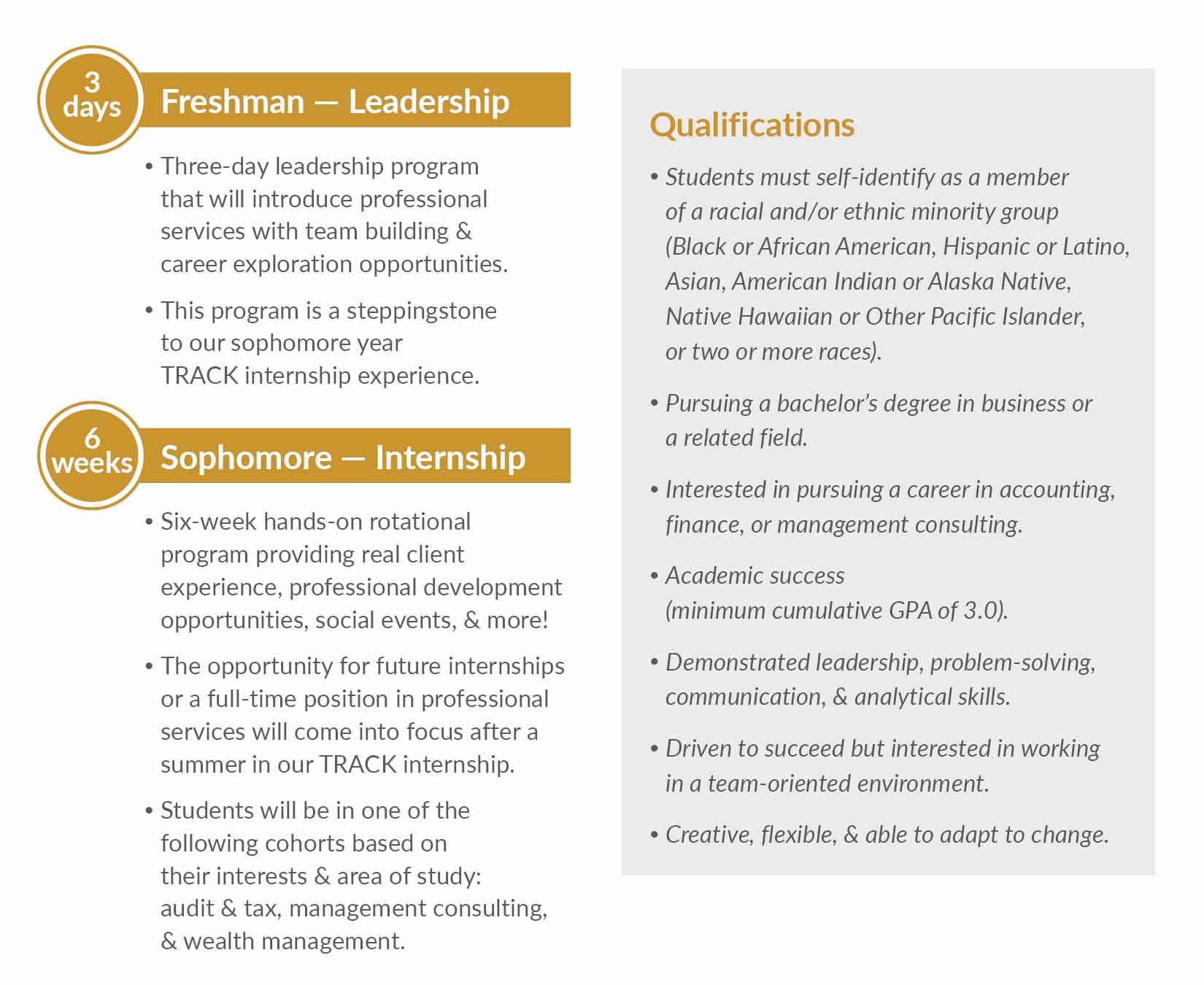 How does Track work?
Freshmen Track participants attend a three-day summer leadership program, while sophomore Track participants experience a six-week, summer internship. Ideally, freshman participants become sophomore Track interns the following year before joining our traditional internship program and, ultimately, becoming entry-level staff.
"Track introduces students to a professional services firm early — when they're just starting to figure out what they want to do," says Eshe Dotson, director of talent selection, development, and inclusion. "The freshman program encourages participants to get excited about our industry, who we are, and our culture in a fun environment, whereas sophomores are involved in activities that provide a deeper understanding of both the career and the skills needs to be successful in two (or three) service areas, all in preparation for an internship in their ideal service area of choice. Our goal: create a learning roadmap that starts broad and then narrows as we engage the students on how their business classes intersect with real-life skills."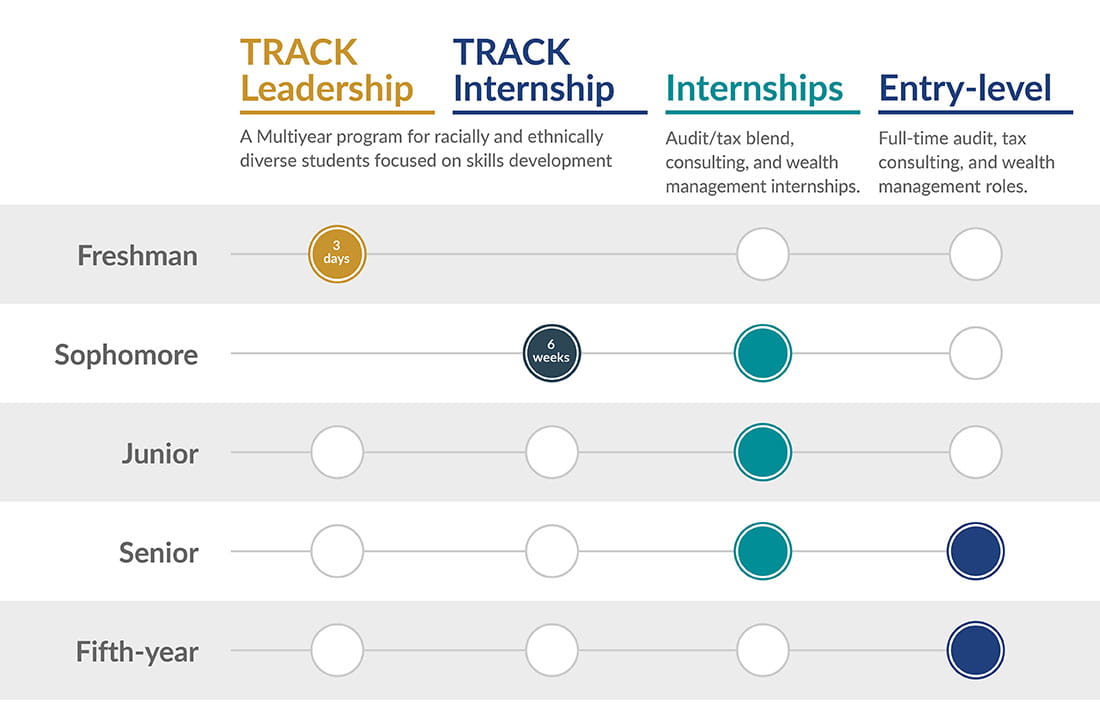 From Track to full-time hire
Here's Rodney Allen, one of our Track graduates, on the program.
"Track was my first time being in a professional setting," said Rodney. "I got to see the full scope of Plante Moran and all the different areas I could work in, like PMFA, Plante Moran Trust, forensic accounting, and tax. I really enjoyed the opportunity and seeing how I could fit in. It definitely made me never want to go back to my hourly service jobs."
After Track, Rodney was offered a traditional internship in our Grand Rapids, Mich., office, closer to where he was attending college. He instantly felt connected to the team and valued at work.
"During the program, I realized I wanted to get into public accounting," said Rodney. "Even though I interned at another firm and even received an offer there, I knew I was a good fit here, mostly because of the connections I made with mentors like Paul Bryant and Alisha Watkins. Even though I was in a different office, they continually checked on me."
Rodney's key takeaway from Track? It gave him confidence in a professional setting for the first time. "Before Track, I didn't consider myself super professional. Plante Moran does a great job with Track participants, progressing them through the different industries and services. For the first time, I could see myself going to meetings, having professional conversations, and being a part of Plante Moran."
Today, Rodney is a full-time audit senior manager in our Grand Rapids office. "The best part of being at the firm is working with the team," he says. "We go out in the field to audit clients as a team, and we all work toward an overall goal. I'm able to build relationships, contribute, and know that my team has my back."
Programs like Track put students on a definitive path toward a rewarding career. If you're interested in learning more about this opportunity, please reach out to us.